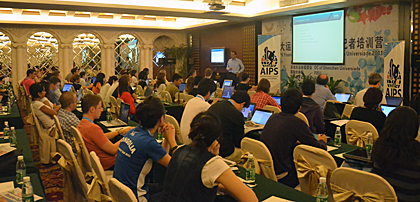 SHENZHEN – To say the International Softball Federation (ISF) came from humble beginnings is putting it lightly.
At the first ISF women's world championship in 1965, just five nations competed and the facilities in Melbourne, Australia weren't exactly ideal.
"We played our first world championship on a cricket field," said ISF president Don Porter, addressing theFISU-AIPS young journalists this morning.
"When we started the competition, the cricket association made us put mats down for the pitching rubber and the batter's boxes in order not to disturb their turf… But that's one of the most important things about our sport, we adapt."
In 1966, the ISF hosted a men's world championship inMexico Cityand from there the sport grew to include 127 countries and be a part of 10 multi-sport events, including the Olympics, starting at theAtlantagames in 1996.
Softball continued to be a part of the Olympic program throughSydneyin 2000,Athensin 2004 andBeijingin 2008, however following theBeijinggames, it was cut.
"There was never any strong criticism about our sport," said Porter. "I think the IOC felt that they needed to change the program to give opportunities to other sports that they felt would add something to the Olympic program."
With softball being taken out of the Olympics getting more young people involved in the sport has become much more challenging. According to Porter one of the ways they are trying to combat that is by donating equipment to various countries around the world.
In the last five years, the ISF has given over $3.5 million in equipment to 90 countries.
"[Softball] is not like football where you just need a ball and a net," said Porter. "I wish it was as easy for us. So we have to find ways to get the equipment into the countries."
Porter went on to say that due to high customs costs that occur in some countries, the ISF has had to find alternative ways of getting equipment over the border. One of which is using military cargo planes.
The ISF is currently negotiating with theU.S.military to use planes that aren't on missions to deliver softball equipment to carious countries; this would continue a long-standing relationship between the sport and the military as according to Porter, Americans playing softball on military bases during the Second World War is what spread the game throughout the world.
As for getting back into the Olympics, the next chance for softball will be the 2020 games. After London 2012, the IOC will reduce the summer program by one sport for Rio de Janeiro 2016, before considering adding an event for 2020.
Softball is currently one of eight sports on the short list for that 2020 addition.
At the university level, softball was briefly in the Universiade in Bangkok in 2007 and is part of FISU through the World University Championship program with the 3rd WUC Softball in Colorado Springs in 2012.
(Source: Justin Fauteux, FISU Young Reporter/CAN)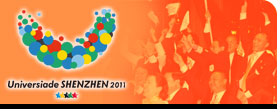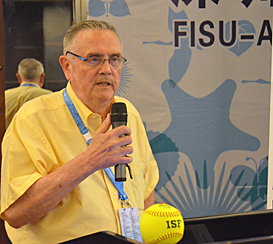 Don Porter
Related News