XIAMEN – With an excellent fifth edition of the FISU University World Cup – 3×3 in the books, it is time to look back at the four days of scintillating action and pick our top 10 moments. From buzzer beaters to wild pile-ups, it was all happening on the half-court of Huaqiao University in Xiamen. Here are some of our favourite moments…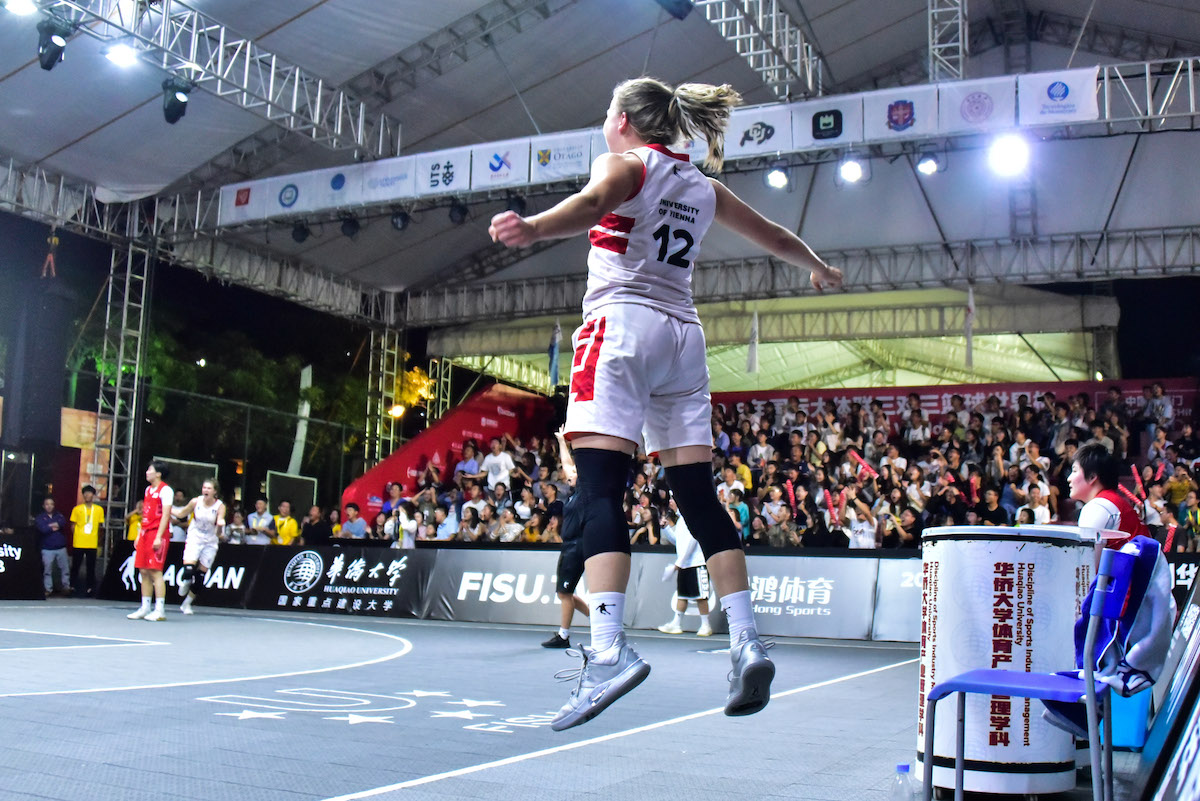 10. Superman Gustavo
Polytechnic Institute of Porto may have lost this game against ISEG Senegal, but Gustavo Teixeira was flying high… quite literally. It was decision day on 2 November, as teams were giving it their all to qualify for the knockouts and Gustavo came up with the move of the day.
9. 'Dr. Fitz' & other names
FISU commentator Ben Ibrahim was ever-popular with the athletes and FISU.TV audience alike. In his inimitable, excitable style, he kept everyone entertained throughout the tournament and gave his own nicknames to the players, like this one. For the record though, Ciaron Fitz-Gerald of Macquarie University is indeed, studying to be a doctor.
8. Zhang Yi shoots right
Peking University bowed out in the women's quarterfinals, but Zhang Yi gave her teammates a boost by winning the shootout contest on Saturday, with eleven 2-pointers.
7. ISEG start event with a scorcher
The first day of the event was off to a flier of a start with games like this one. ISEG Senegal pulled off a stunner over Mon-Altius PE Institute of Mongolia. With the score tied at 19-19, the game went into overtime and Momath Seck sealed the deal for the Institut Supérieur d'Entrepreneurship et de Gestion with a clean 2-pointer.
6. 3×3 gone wild
Fittingly enough, the same day that the Rugby World Cup final was being contested between England and South Africa, all hell was breaking loose on the courts of Xiamen. A lay-up gone wrong, then a pile up and nobody is able to get their hands on the ball… it was all happening in the game between Macquarie and Uganda Christian University. A comedy of errors.
5. Ferocious Ferros
If this was André Ferros' reaction after winning the quarterfinal over University of Otago, it is easy to imagine how fired up he must have been for Paulista University's first-ever University World Cup final. No wonder they won.
4. 3 Perfect 10s
The Slam Dunk contest on Saturday was surely one of the highlights of the event. Eromon Uadiale of Australia's Macquarie University saved his best for last, keeping the suspense alive until the very end. Runner up Leandro Alvarez from the National University of La Matanza watched in good humour as Uadiale pulled out all the stops to receive three perfect 10s from the judges.
3. Camilla's buzzer beater
On the second day of competition, Camilla Neumann led University of Vienna in a neck-and-neck contest against defending champions Tsinghua University. With 4 seconds on the clock, Tsinghua had a slim 16-15 lead. It looked to be all over for Vienna, when Camilla pulled off a stunning buzzer beater and sent her teammates into ecstatic celebrations over the 17:16 scoreline.
2. Back-to-back champions
It was time for sweet revenge for Tsinghua University of China just when it mattered most, as they beat University of Vienna comprehensively in the final. After having lost to the Austrians by a whisker in pool play, regular order was restored as the defending champions did not look like losing for even a moment in the title clash.
1. Why not, says Weihermann
It was a first-ever title for Paulista University of Brazil who beat a feisty squad from University of Chile in the final. William Weihermann was on fire from beyond the arc, scoring a multitude of 2-pointers and taking his team to the top of the podium.
Related News