The home country wrapped up a very successful edition of the Universiade in Siberia, by defeating Slovakia 2-1 and winning gold in the men's ice-hockey final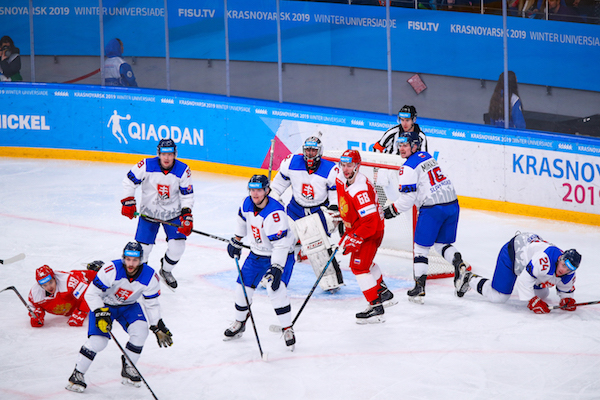 KRASNOYARSK, 12 March – The Russian flag waved high for the last time at the Winter Universiade 2019, as the men's ice hockey team defeated Slovakia 2-1 in the final event of the games. It was a fitting end for the home country that has enjoyed outstanding results in Krasnoyarsk, with 112 total medals, 41 of which were gold.
"It was really good to play this game. It was very tough, it was very enthusiastic," Russian head coach Vladislav Khormykh said. "Their defence was great, their goalie was great in this tournament. As for my team, as for my guys, they were fighting towards the end. They were doing their best in every game and playing for victory in every game."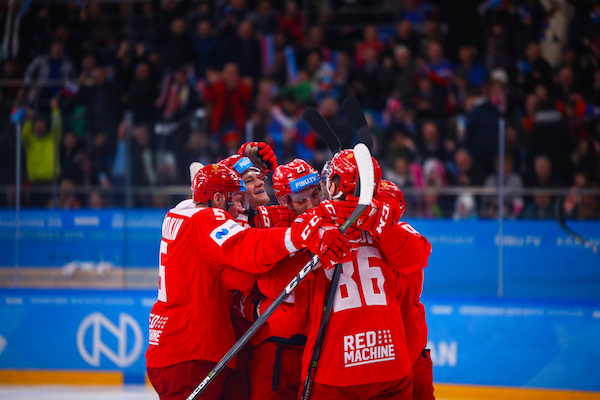 Slovakia gave the Russians a fight, keeping them on their toes for majority of the game. After a scoreless first period, Russia got on the board first thanks to a goal by Maksim Dzhioshvili. Slovakia fired back less than two minutes later with a goal of their own, scored by Sebastian Smida, to make it an even 1-1.
The score remained tied until the second minute of the third period, when Dmitry Kolgotin tipped it into the net and scored what would end up being the game winner for Russia.
"We are silver medalists, but we told our guys in the dressing room that they are winners," Slovakia head coach Ivan Fenes said. "We are sure that you liked our game and it was a great promotion for Slovakian hockey."
In the bronze medal match earlier in the day, Canada defeated Kazakhstan 3-0. Aidan Wallace, Daniel Del Paggio and Stephen Harper all scored in the win for Canada.
"It's a tough tournament and there are a lot of games in a short amount of time," Wallace said. "Hockey is a really quick game and we went out there and just played our game and it worked out for us."
With the men's ice hockey final, sporting competition concludes at the 2019 Winter Universiade.
Results:
Gold: Russia

Silver: Slovakia

Bronze: Canada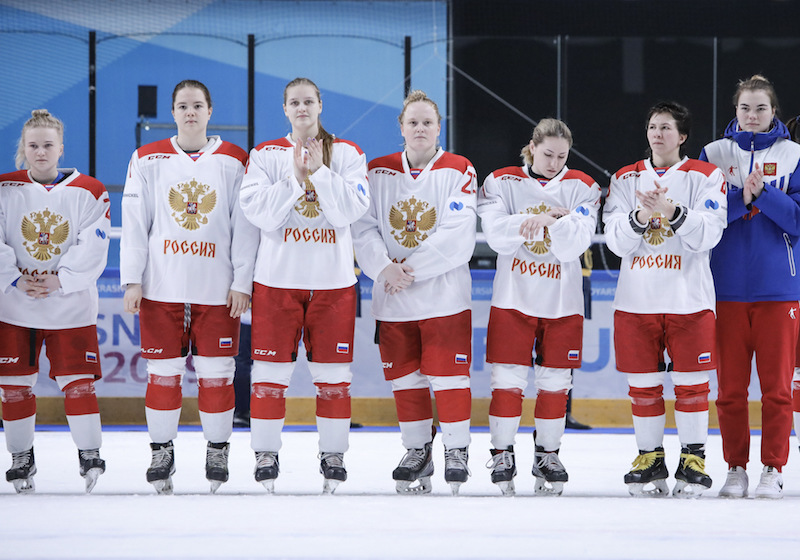 KRASNOYARSK, 11 March – The gold medal match in the women's ice hockey competition at Krasnoyarsk 2019 was dominated by two goalkeepers who were determined not to be beaten. Both Canada and Russia had golden opportunities to take an early advantage in the final match up, but neither team was clinical enough in converting their chances.
The break through finally came in the third period when Russia used their power play to set up Liana Ganeeva, who buried her shot into the top right corner and sent the crowd into raptures.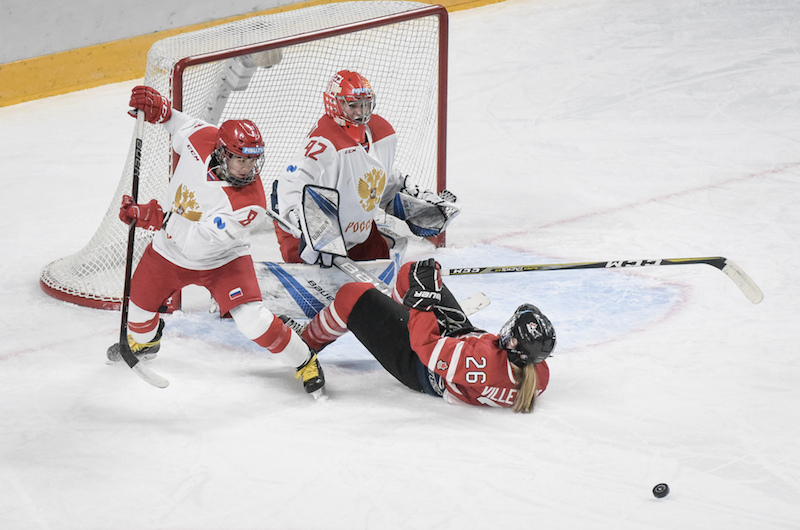 In an attempt to equalise, Canada took out their keeper and replaced her with a sixth player. Russia won the puck back and Alevtina Shtareva finished off the game with a goal in an empty net. The game was sealed with 10 seconds to go. The crowd counted the last few seconds and the whistle confirmed the gold medal.
The Russian girls rushed onto the ice to embrace one another and bask in the glory of their Universiade triumph. The Canadians, clearly heartbroken, can hold their heads up high as they pushed the Russians all the way in a memorable final.
Aleksei Christyakov, coach of the Russian team said, "We tried to motivate our girls, I noticed in the second period that the Canadians were getting the better of us. The girls felt emotional in the second period, but they got over it and started scoring. And our goalie had a really good game. We prepared really well for this game and it's a big honour for us to win this gold medal."
The Canadian coach Stacey Lee Colarossi, on the other hand said, "this was not the colour we came for. But we had to put the team together at the last minute, a really late team put together. The outcome for us, I'm really proud of them at the end of the day."
In the bronze medal match, Japan beat the United States 2-1. Over in the men's draw, the semifinals were played out, and Russia beat 5-1 to set up a title clash with Slovakia, who got the better of Kazakhstan 4-0. The men's ice hockey final will be live on fisu.tv on 12 Mar at 15:00 local time (GMT +7) and with it, the sporting competition at the Winter Universiade 2019 will come to an end.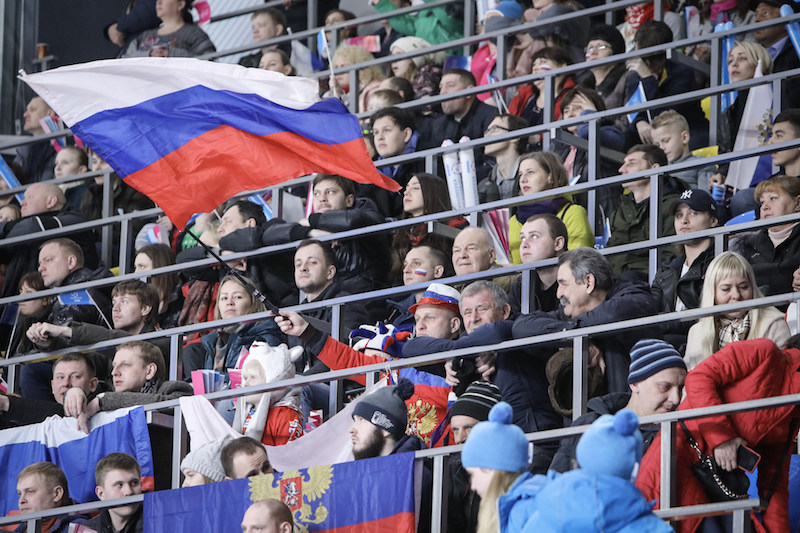 Earlier…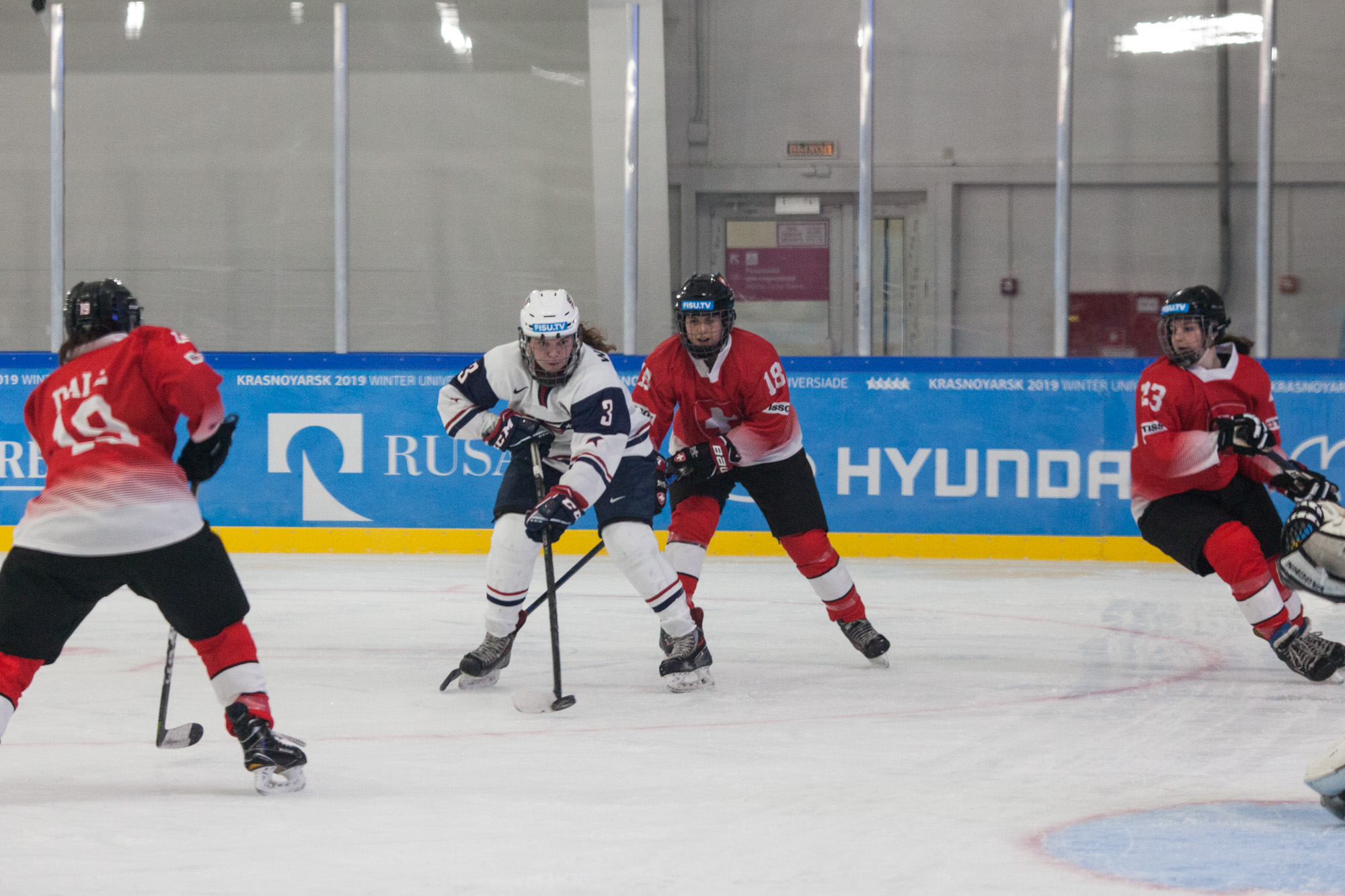 KRASNOYARSK – United States women's hockey player Maddie Wolsmann is competing in her second Winter Universiade. The talented forward plays for Michigan State University, where she has appeared in 22 games so far this season and scored 26 goals and 37 assists, a performance that earned her first-team All-American honors.
Now she's one of four returning members for the U.S. team and is taking on a bigger role as captain this time. The squad is 1-2 after three outings in Krasnoyarsk following a hard-fought 1-0 loss to archrival Canada on Monday afternoon.
Q: The team played a great game tonight and kept it really close until the end. What are your overall thoughts after the game?
A: It was huge for our team. We played hard. I think we are only building every game we have so I think this is really good for us moving forward.
Q: How much did the team practice before coming here?
A: Not at all. We only had two practices before our first game.
Q: You are all on college teams that compete against each other back home. What's it like to come here and compete as one team instead?
A: It's super fun. I did it last time so I knew the experience coming into it but going to Nationals after this we all connect again so it's really fun. We're like a family.
Q: Canada-USA women's hockey teams have become rivals over the past two-plus decades. What's it like to compete against your northern neighbors?
A: It's a huge game. We all got really pumped up for this game. It's huge. Sadly, we didn't pull through, but we'll get them next time.
Q: What was it like being the flag bearer for the United States' delegation at the opening ceremony?
A: It was amazing. Honestly unreal. I didn't expect it and so I was really honored to be able to do that.
Q: Have you been able to explore the city at all?
A: Not yet, we've been really busy with games so far and opening ceremony and meetings and that type of stuff. Hopefully we'll get a chance soon.
By FISU International Young Reporter Danielle Allentuck at the Krasnoyarsk 2019 Winter Universiade
Related News
23 January 2023
22 January 2023