In celebration of International Women's Day, FISU and its Gender Equality Committee hosted a webinar 9 March to highlight best practices and leading projects in the area of gender equality and sustainable sport.
FISU Acting President Leonz Eder opened the webinar and commented, "The question of gender equality still preoccupies most government, companies, and organisations. This alone shows there is still a lot of work to be done with this issue." Committee Chair Rosaura Mendez Gamboa added in her remarks, "Today it's important to build a world with more opportunities for everybody, where nobody is left behind, where inclusion is the key for new fights. FISU is [seeking] new proposals that allow our organization to take forth to open more spaces and opportunities."

Nika Tikanashvili, from the University Sport Federation of Georgia (USFG), presented about a recent project on female volunteers and their role in sport development that brought a spotlight to the key role women play in this context. He highlighted some of the outcomes including, "[it provided] increased knowledge, skills, and attitudes [for] female volunteers during the planning and organizing of events." Students from across Georgia, university representatives, and Georgian sport federations were among the participants in this session, with USFG member universities, FISU, and various levels of government partnering on this important initiative.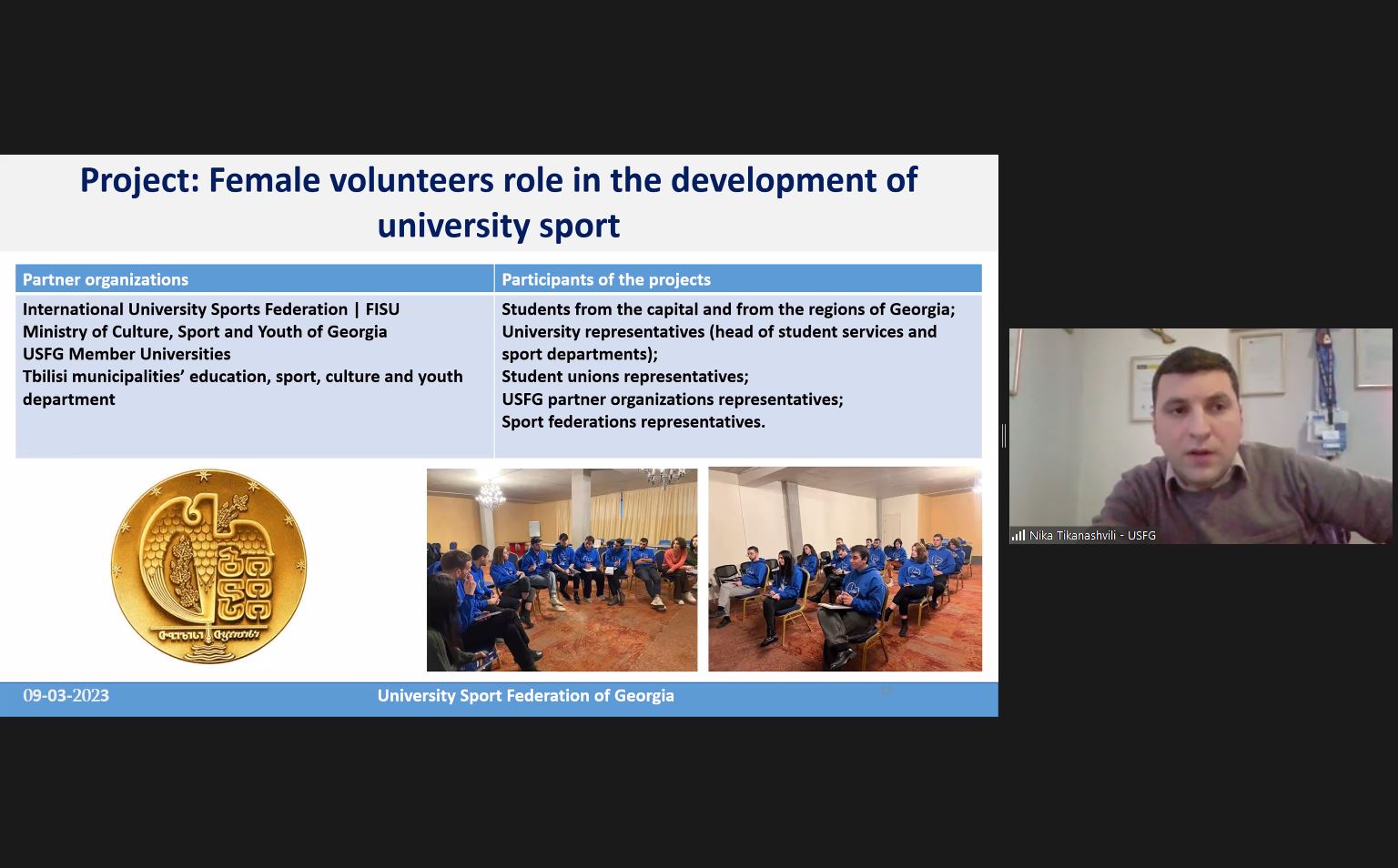 An upcoming Women in Sport Leadership Summit was introduced by Laurel Black, a FISU Student Ambassador. Speaking about the motivation for organising the event, Black said, "[we are] taking the approach of providing role models and representation for women by inviting guest speakers to come and speak on their experiences and provide those role models for our student-athletes and those studying sport management." Participants are expected to gain valuable insights and ideas to support the development of their career paths and plans. The experiences and background of speakers will be shared around such topics as:
Empowerment and self-confidence going into the field
How to advocate for yourself and others
How to network
Mental health and how it manifests in the female body
This event will take place 10 April 2023 in Raleigh, North Carolina in the United States, on the campus of North Carolina State University, one of the host locations of the 2029 FISU World University Games Summer.

Participants then broke into discussions groups to review what different National University Sports Federations (NUSF) are doing in relation to gender equality and sustainable sport. Egide Nduwimana reported that their group discussed how the status of gender equality is developing but is at a different stage in Africa than in places like Australia. Another participant, Min Joo Kim, outlined how her group discussed the greater existence of volunteer opportunities, mentorship programs, and elections that included more women to all help better establish gender equality.

To conclude the webinar, the FISU Gender Equality Awards were discussed. These include the FISU Gender Equality Project Award, the FISU Gender Equality Champion Award, and the new category of FISU Extraordinary Award. Nominations from NUSFs are open until 1 June 2023.
Written by Doug McLean