The final FISU Student Ambassadors and FISU Volunteer Leaders Academy (FVLA) cultural webinar took place 27 February featuring Oceania. Sport, culture, history, and people are the focus of these sessions to provide participants, at this event representing 19 countries and five continents, additional background on the regions of the world.
Two of FISU's Student Ambassadors from 2022 Jason Nel, from New Zealand, and Nicholas Mallia from Australia helped lead the session with Nel opening proceedings with greetings and a land acknowledgment, while Mallia guided participants through two fun quizzes about the region.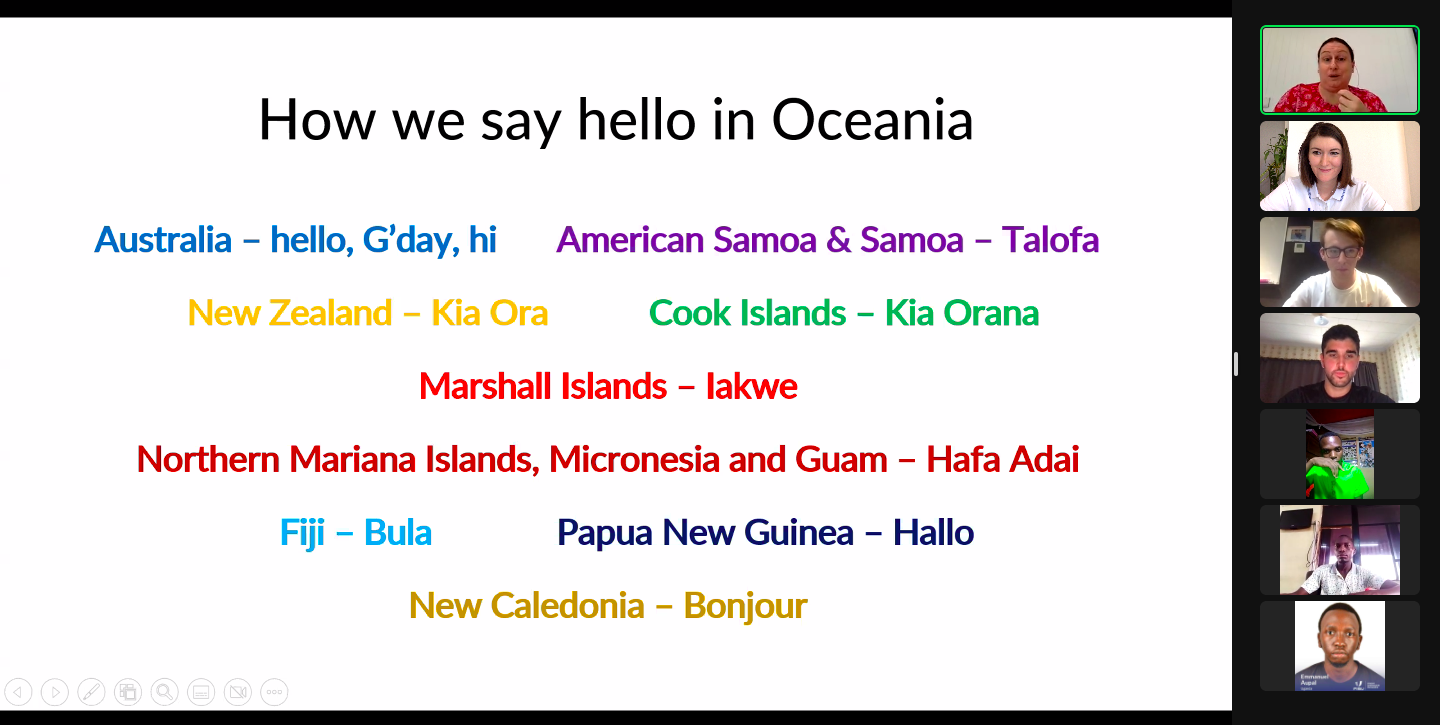 Donna Spethman, Secretary General of FISU Oceania, gave the background on the region by first introducing the many ways greetings are provided throughout the region – from iakwe in Marshall Islands, to talofa in American Samoa and Samoa, to bula in Fiji, or kia ora in New Zealand. This provides an initial glimpse into the diversity of the region.

Distances between Oceania and other parts of the world were also highlighted. Flights times of approximately 18 hours from New York to Auckland or just over 17 hours from London to Perth indicate how far countries of Oceania are from many other places on the planet.

The four regions of Oceania were then introduced. First up was Australia and New Zealand (Aotearoa). It is in Australia where their Indigenous and first nations people represent the oldest living culture in the world and include over 250 Indigenous languages. New Zealand, a country of great biodiversity, has more than one third of its territory as protected land and marine areas. Also, the Indigenous Maori language was made an official one in New Zealand in 1987.

Next was Melanesia, a region consisting of a chain of archipelagos, islands, atolls, and reefs. 850 languages are spoken in Papua New Guinea, territorially the region's largest country, which makes it Earth's most linguistically diverse place. With many people in the region living in small towns and villages, local markets remain the preferred way of shopping. This region is also the home to over 20 active volcanoes.
2,000 islands make up the region of Micronesia, a region that has had strategic military importance having been home to Japanese and US forces in World War II. Strong Asian influences exist in this part of Oceania considering the proximity to Japan, Korea, and China, making it a melting pot of in terms of food culture. Raw fish, or poke, is traditionally served in the region.

Polynesia, means 'many islands' in Greek, and as a result Polynesians were excellent boat builders and sailors, venturing as far away as Chile. The international date line actually divides Polynesia in two and was adjusted in 2011 to improve and support trade and travel connections to New Zealand and Australia.

This final continental cultural webinar demonstrating Oceania's uniqueness was an ideal way to conclude this series that has highlighted all regions of the world over the last year.
Written by Doug McLean