After 11 days and 85 medal events, the Lake Placid 2023 FISU World University Games officially ended on 22 January.
Team Japan finished first in the Lake Placid 2023 FISU Games' overall medal count with 48 medals (21 gold, 17 silver and 10 bronze). Japanese men won 12 gold medals, seven silver and six bronze, while the women combined to claim seven gold, eight silver and three bronze. The mixed teams came away with two gold, two silver and one bronze medal.

Republic of Korea finished second overall with 29 medals (12 gold, 8 silver and 9 bronze), while France claimed 18 medals (5 gold, 6 silver and 7 bronze) and was third.

The U.S. squad, who did not medal in 2019, enjoyed its best-ever FISU Games with 17 medals (three gold, eight silver and six bronze).

With the traditional closing ceremony, held in Lake Placid's Olympic Center, the enthusiastic group of spectators, along with FISU delegates and local and New York State representatives, wave goodbye to the 1,443 student athletes, from 46 countries, representing more than 540 universities, who participated in the 12 winter sports that made up the Games.

"There can be no doubt: Lake Placid is the place of legends for winter sports. We are reminded of this, just walking into this building and seeing the reminders of the 'Miracle on Ice.' We knew this was and is a very special place. And we had the privilege to be part of it," said FISU Acting President Leonz Eder.

"Here, in winter, Lake Placid has brought unprecedented warmth to our Games. In a complicated world, full of conflict, this wonderful community has offered us an open heart. Let us not underestimate how lucky we are to have been able to enjoy these 11 days of joyous and peaceful celebration in sport," he added.

"New York State has shown to the world that international sporting events have the power to unite peoples and nations. Records were broken and friendships were made as the entire world watched," said James McKenna, chairman to the Adirondack Sports Council, the Lake Placid 2023 FISU World University Games Organizing Committee.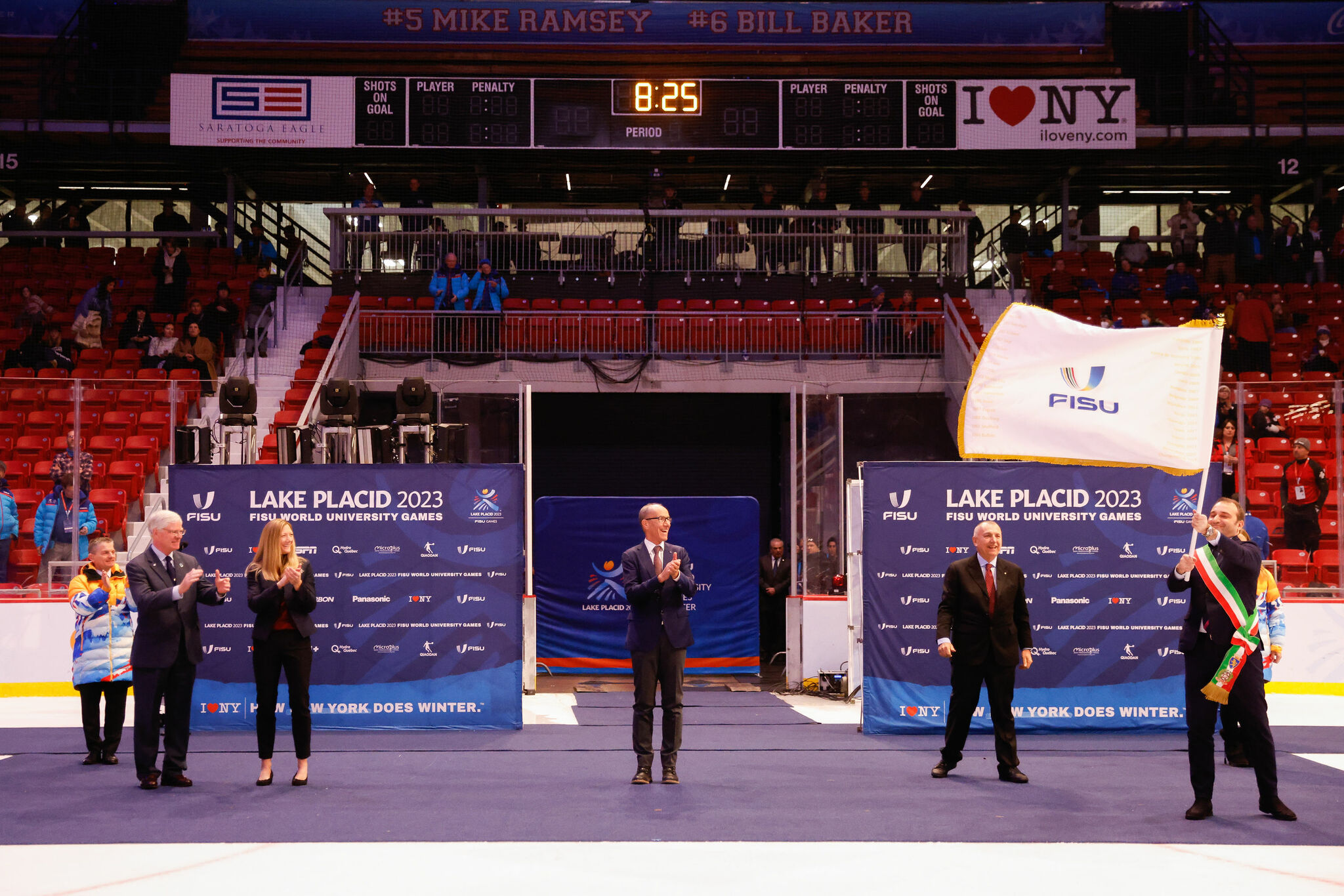 As part of the closing ceremony, Eder transferred the FISU Flag to Stefano Lo Russo, the mayor for Torino, Italy, the host of the 2025 FISU World University Games, and Lorenzo Lentini, Italian University Sport Center delegate.

The 31st winter edition of the FISU World University Games marked just the second time the multi-sport and educational festival ventured outside Europe or Asia. The only other time was in 1972, when Lake Placid hosted the seventh edition.
Related News