It was Austria Day on Sunday at Gore Mountain, where the nation dominated the women's and men's parallel slalom, the final snowboarding events of the Lake Placid 2023 FISU World University games.
After taking the silver medal 24 hours earlier in parallel giant slalom, Carmen Kainz won the gold thanks to a time of 37.54. Flurina Bätschi of Switzerland and Nadiia Hapatyn from the Ukraine completed the podium.

Countless Austrian team members in red jackets were all around the track, applauding and shouting encouragements as the delegation celebrated and enjoyed every moment of the last competition day.

"It feels great to be part of that delegation. Today was really the best; the guys did a great job, I managed to perform… We have the perfect team," said Kainz, who admits to loving the curves and the speed.

"The Lake Placid Games were amazing. I'm used to competing in the European Cup, which is much smaller."

"Here it was a big event, with great people and a very nice organization, so I couldn't be happier," concluded the University of Linz student.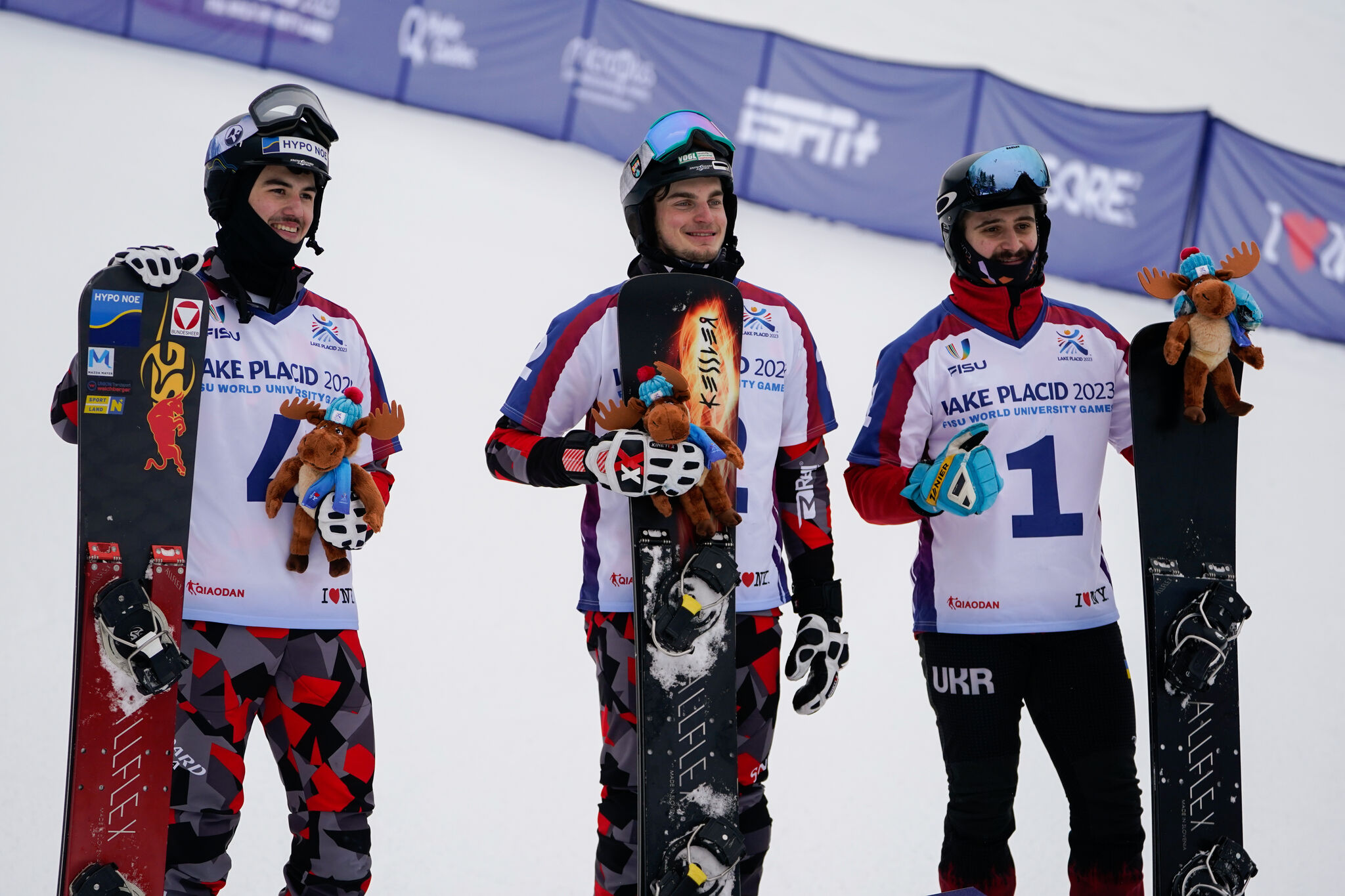 On the men's side, Matthäus Pink won the final with a time of 34.24 against compatriot Dominik Stefan Burgstaller (34.75), while Ukrainian Mykhailo Kharuk took the bronze medal (34.47).

"It is so fun to ride with all my friends. I have known these guys since I was a kid! Just before the final, we said to each other that what mattered was that we enjoyed the race, not who was going to be in front of the other."

This was a perfect conclusion to Pink's first-ever trip to Lake Placid.

"It's also a great deal of fun for us to travel to America. The snow can be very different here than it is in Europe, but today it was pretty similar, and it helped me perform well."
Written by Louis Gilles & Julieta Boschiazzo, FISU Young Reporters
We warmly thank FISU Official Partner Qiaodan Ltd. which provides remarkable uniforms to FISU Family and International Technical Officials since 2015. Qiaodan is a valuable partner for FISU as it continued to provide its support during the postponement of events due to the global pandemic, and recently extended the relationship with FISU up to and including 2025.
Related News