Shaline Rüegger is a 23-year-old student-athlete from Switzerland. Her love for figure skating goes all the way back to when she was four, thanks to her older sister, Xenia, who inspired her to try it.
"My sister was the one who wanted to do figure skating when we were children," she remembers. "I was watching her and the coach asked me if I wanted to do it as well and I didn't hesitate." The younger Rüegger has now been doing it for 19 years.

"That's a lot of time to do one sport," she said, admitting she was thinking of retiring a few years ago due to injuries. Her choreographer, Cornelia Leroy, who she has been working with since she started, gave her the idea about trying a new discipline.

"I know you are thinking of retiring," she recalls her coach telling her at the time. "But maybe short track speed skating would be something you would enjoy."

She didn't have to think about it for very long. And now, at the Lake Placid 2023 FISU World University Games, she represented her country in both disciplines.

"How cool would it be to end one career and start the other at this major event. The Swiss [University Sports] Federation stepped behind me and a lot of people worked hard to make this happen."

"Since my races were not the best in Lake Placid, it means a lot to have my parents and sister support," she added, explaining her family flew all the way from Switzerland to cheer her on.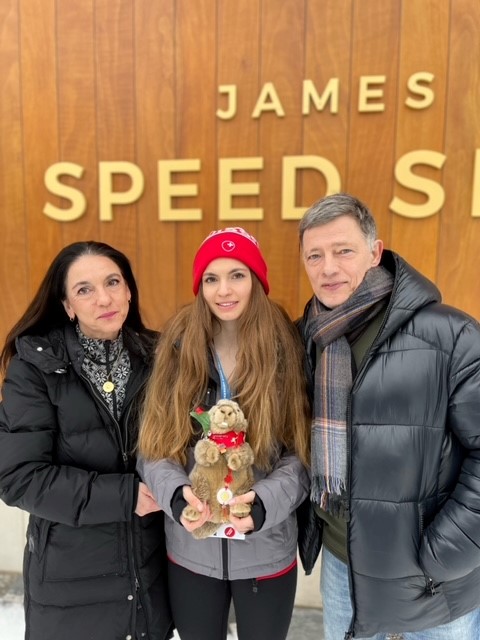 On the family's approach to teamwork, her father Frederick said: "I like to think that we are quite open minded and open to different things. So, if you are in a position to befriend with most people, even if you're a competitor, and if you can look at what people do a little bit differently than what you do, it's always a chance to learn and to coexist. This is what makes us, I think, as a family."

"You must think a bit in advance what's going to happen in two or three years when she's a bit older," added her mother, Claudia. "Figure skating is a sport that takes a toll on ladies, they need to be really young. Neither of us had come up with the idea of crossing over to speed skating. That's a bit of a surprise for us as well."

Short track is not the only new discipline Shaline has on her mind these days.

"I'm definitely thinking of doing long track in the near future. I have actually done a race in the summer, but it was not good. It was after a week of training," laughed the youngest member of the Rüegger family.

Written by Miha Trošt & Christopher Benitez Cuartas, FISU Young Reporters

Main Photo credit: Swiss University Sports
Related News