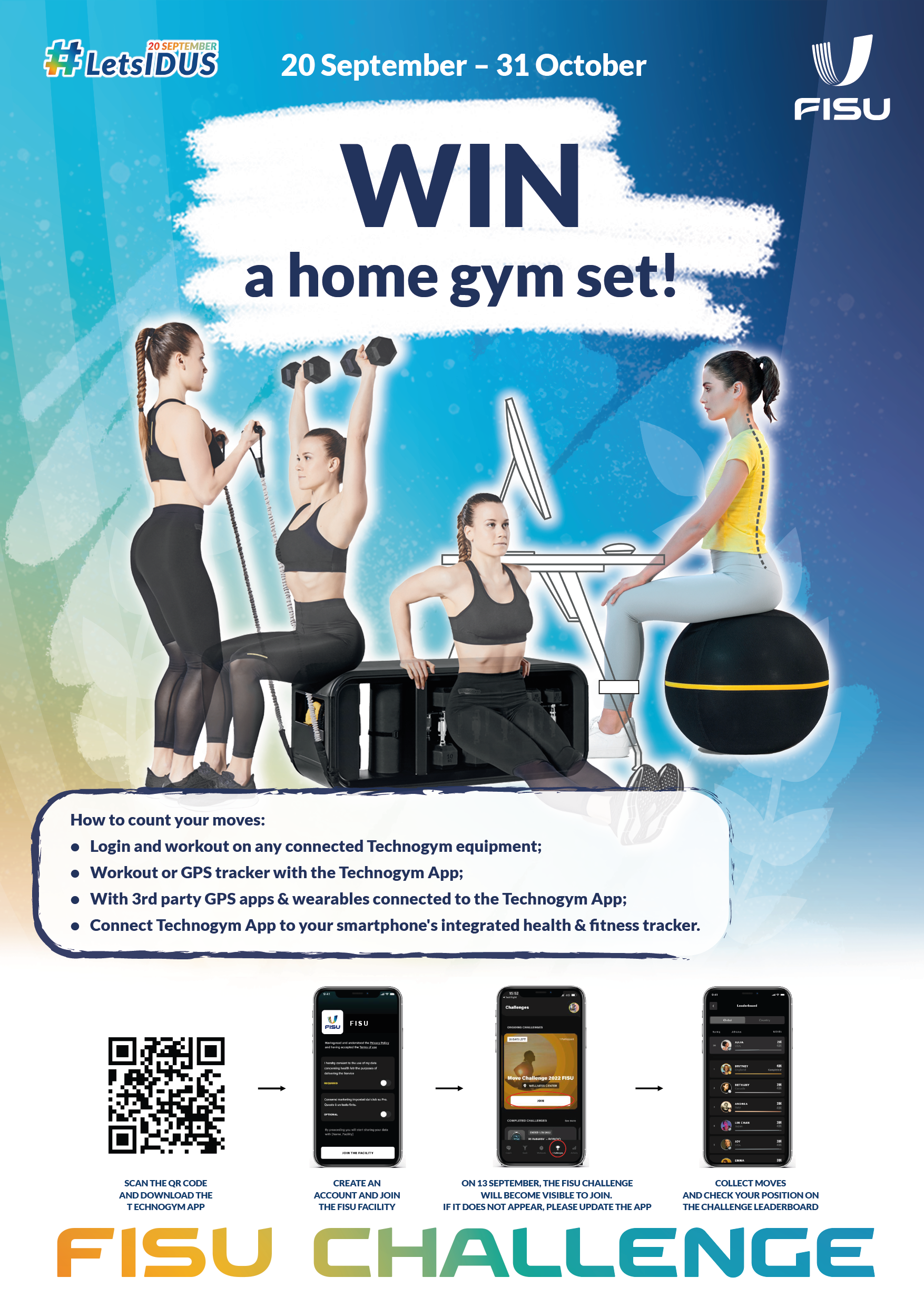 Get moving this Autumn for your chance to win one of five exciting fitness-first prizes! On 20th September each year, universities around the world unite for the International Day of University Sport (IDUS), promoting sport, physical activity, and a healthy lifestyle.
To celebrate IDUS this year, in partnership with the Technogym App, we're running the FISU Challenge 2022. You'll have the chance to win a fully-equipped Home Gym Bench set or a Wellness Ball Active Sitting exercise ball. Read on to find out all the details on how to enter.
COMPETITION DETAILS:
The FISU Challenge 2022 is all about promoting an active and healthy lifestyle on campus. The competition runs between 20th September and 31st October, during which time the 'moves' will be calculated (see further details below).
There are three different groups who have a chance to win one of the many prizes on offer.
GROUP 1: 'Move' Winners on Leaderboard
Individuals who score the highest number of 'moves' on the FISU Challenge 2022 in the Technogym App.
First place prize: 1 Home Gym Bench set
2nd, 3rd, 4th, and 5th place prize: Each will receive one Wellness Ball Active Sitting exercise ball.
GROUP 2: Randomly-selected Participants
All individuals who join the FISU Challenge 2022 in the Technogym App and collect 'move' points, will have a chance to win. Five randomly-selected participants will each receive one Wellness Ball Active Sitting exercise ball.
GROUP 3: National University Sports Federations (NUSF)
Collect your 'move' points and help your NUSF win! Using geolocation technology, all 'move' points gained inside the same country will contribute collecting moves for local NUSF. The top three highest-scoring NUSFs will each win one Home Gym Bench set. Help promote the FISU Challenge 2022 at your university to boost your NUSF's points and chances of winning!
ALL PARTICIPANTS
Every participant in the FISU Challenge 2022 will receive two months of Platinum Membership to the Technogym App completely free when they sign up to a Technogym App subscription. They will also receive an additional 40% off of the continuing subscription.
HOW TO ENTER:
1) Use the FISU QR code listed here to head to your app store. From there, download the Technogym App.
https://technogym.page.link/FKo8ZH2EeAy4mqJAA
2) In the Technogym App, create an account. Please note: It is not required to sign up to any kind of subscription (paid or trial) at any stage of the process for entering in this competition.
3) In the account creation stage, enter your personal details.
4) Choose your 'Health Data Access' (e.g. Samsung Health, or Google Fit). Or click, SKIP FOR NOW
5) Choose one of the three options for how you would like to train
6) Choose one of the options for what makes you move. Or select "I'll do it later".
7) A pop-up should be shown: "Welcome to FISU". Select "continue"
8) You will now have been added to the 'FISU facility'. You can view this under 'My Facilities' in your account details in the app
9) If you can't see FISU Facility function in your Technogym App account, scan the above FISU QR code once again. This will open up the FISU Facility pop-up in your Technogym App
10) Collect as many 'moves' as possible from 20th September to 31st October 2022. (See below for further details on how to collect 'moves')
11) Check your position on the challenge leaderboard to see how you score in 'moves' compared to others around the world!
COLLECTING 'MOVES
You can do any or all of the following options to count your 'moves':
1) Complete any of the workouts available directly in the Technogym App
2) Synch your GPS-compatible fitness wearable(s) with the Technogym App to count your moves when self-training. This includes Garmin, Fitbit, Strava, Polar, Mapmyfitness, Runkeeper, and Swimtag
3) Connect your Technogym App to Apple Health, Google Fit or Samsung Health to import your lifestyle activities and data.
4) Log-in and workout on any Technogym-compatible equipment.
GET INVOLVED
Encourage healthy, active lifestyles by promoting the International Day of University Sport at your campus!
Head here to download a free marketing kit to help promote IDUS.
Why not run your very own IDUS event on campus? Download our free IDUS Event Starterkit here.
FAQs:
Who is eligible to participate?
There are no limitations from FISU on who can participate.
How long does the competition go for?
The competition runs from 00:00 20th September 2022 CEST to 23:59 31st October 2022 CEST.
How will winners be notified?
Winners will be notified via the Technogym application. The App has live ranking – so you can track your position on the leaderboard every day.
How will the winners receive the prizes?
Prizes will be sent to winners via a local delivery company.
When and how will I receive my 40% discount and 2 month free membership for the Technogym App?
You will receive two months of membership for free as soon as you subscribe to a Technogym membership. The 40% of discount will be applied starting from the third month of your Technogym membership contract.
Does it cost anything to enter the competition?
No. Subscription to the Technogym App is not necessary to enter the competition.
How can I find out more information?
If you've got any questions or concerns, head to the 'Contact Us' section within the Technogym App.