The FISU-AIPS Young Reporters Programme is an exceptional opportunity for forty aspiring sports journalists to receive intensive training at the Chengdu 2021 FISU World University Games this August.
The deadline for applications to the sixth edition of the Young Reporters Programme is now only a week away, closing on 31 January. The programme will be conducted at the Chengdu 2021 FISU World University Games from 18-29 August this year.
Strong applications have already been received from all five continents, with the greatest number of applications coming from FISU member federations in Africa.
From among the applicants, twenty (20) international candidates will be selected by the International University Sports Federation (FISU) and the International Sports Press Association (AIPS), while another twenty (20) candidates from the host nation, People's Republic of China, will be selected by the Organising Committee of Chengdu 2021.
The inaugural edition of one of FISU's marquee educational programmes was held in 2011 at the 26th Summer Universiade in Shenzhen, People's Republic of China, in partnership with the International Sports Press Association (AIPS). Successful editions have been held since, at the summer World University Games (formerly Summer Universiade) in Kazan, Russia in 2013, Gwangju, South Korea in 2015 and Taipei City, Taipei in 2017. The fifth edition was the first one held at a winter edition of the FISU World University Games – at Krasnoyarsk 2019 in Russia.
"This unique sports journalism education programme provides young and aspiring sports journalists with a rare hands-on training experience during a major multi-sport event," says FISU Secretary General-CEO Eric Saintrond. "Moreover, the selected participants automatically become members of a continuously growing global network of FISU Young Reporters and may receive freelance or internship assignments at future FISU events, in case of outstanding achievement."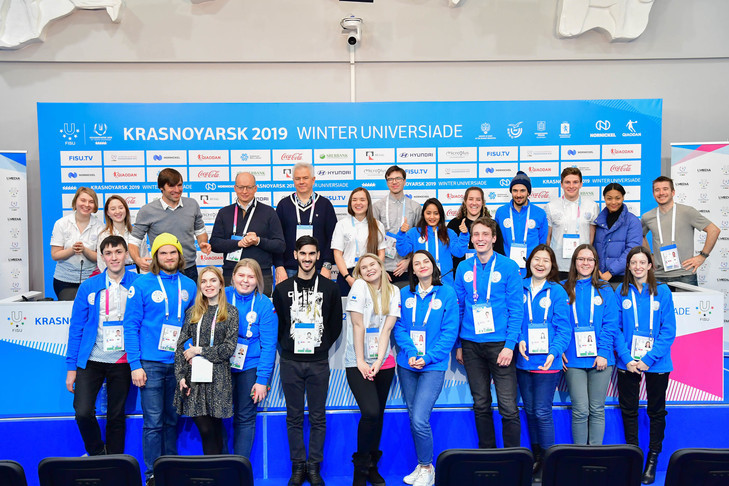 AIPS is partnering FISU once again in delivering this intensive training programme at the FISU World University Games. The curriculum of the programme includes lectures from world-class media and communication professionals, mentorship from established sports journalists and field-based training with the FISU Media & Communication team.
"AIPS is glad to renew the partnership with FISU to organise the Young Reporters Programme in Chengdu 2021. The first project, which we worked on together in 2011 in Shenzhen, remains a source of inspiration to carry on this cultural initiative," says AIPS President Gianni Merlo. "A major multi-sport event as the FISU World University Games is a once-in-a-lifetime opportunity for aspiring sports journalists and the best place to acquire really valuable knowledge as well as practical training. This partnership is a very important step for the future."
The twenty selected international candidates will be brought right into the middle of the Games, with full access to the competition venues and the Main Press Centre. The cost of travel, accommodation and meals will be borne by FISU and the Organising Committee. During the programme, training will be offered in print, photo and social media reporting of live events. The Young Reporters will be required to participate in all training sessions and will be given daily multiple reporting assignments. Photographers will be required to produce written content, just as print media journalists will be required to delve in photography or produce audio-visual stories, in order to develop their all-round journalistic skills.
The 16-day programme will be conducted in English and the first assignment will be coverage of the Opening Ceremony. Through all competition days, the Young Reporters will be expected to file multi-media news and feature stories, many of which will be published on FISU's official platforms and channels.
Candidates will be judged on their academic records, recommendations of teaching staff or managers and should, above all, show real potential to succeed in their chosen media career.
More information on the application and selection process can be found here and for any further queries regarding the 2021 FISU-AIPS Young Reporters Programme, please get in touch with media@fisu.net.