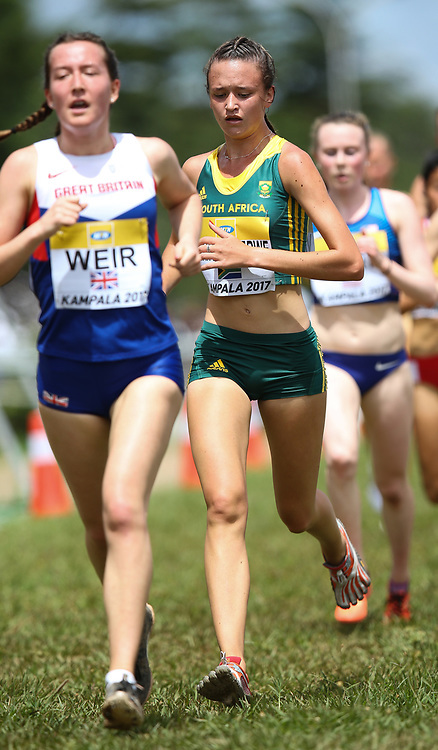 Nicole van der Merwe (Courtesy: imageSA)The 2020 World University Championships are just over a month away, with WUC Cross Country being the first of 29 events on the FISU Championship calendar this year.
As a curtain raiser for the only Championship taking place on African soil, Morocco hosted the FASU (Federation of African University Sport) Cross Country Championships towards the end of 2019, attracting the best student-athletes from across Africa to battle it out for continental glory.
Among the participants from South Africa was talented 21-year-old runner Nicole van der Merwe, whose brilliant effort in Morocco saw her claim silver in the women's individual event, and another silver in the women's team event as well.
We caught up with the young talent, who is hoping to convert those silvers to gold at the first FISU WUC in March.
FISU: Hi Nicole! Let's start with first understanding how you initially took to cross country running?
Nicole: I have been running since I was about seven years old, but only fell in love with running when I was 12. I ran both track and cross country, but really liked cross country more because every course is different and you don't expect the same thing every time you run. In primary school my coach told me I could go far with my running. Since then I started to medal at meets and worked my way up to the South African Championships.
What is it that you enjoy the most about cross country, and who or what is your motivation?
I enjoy the adrenaline rush while you warm up and stand on the line, waiting for the gun to go off. When the gun goes off you have to believe in yourself and know that you have put in the hard work. I look up to (former South African middle/long distance record holder and Olympian) Zola Budd because I also love to run barefoot as she did, and I am in awe of what she accomplished with everything she went through. But I also have great motivation from both my mom and dad, and my coach who believes in me.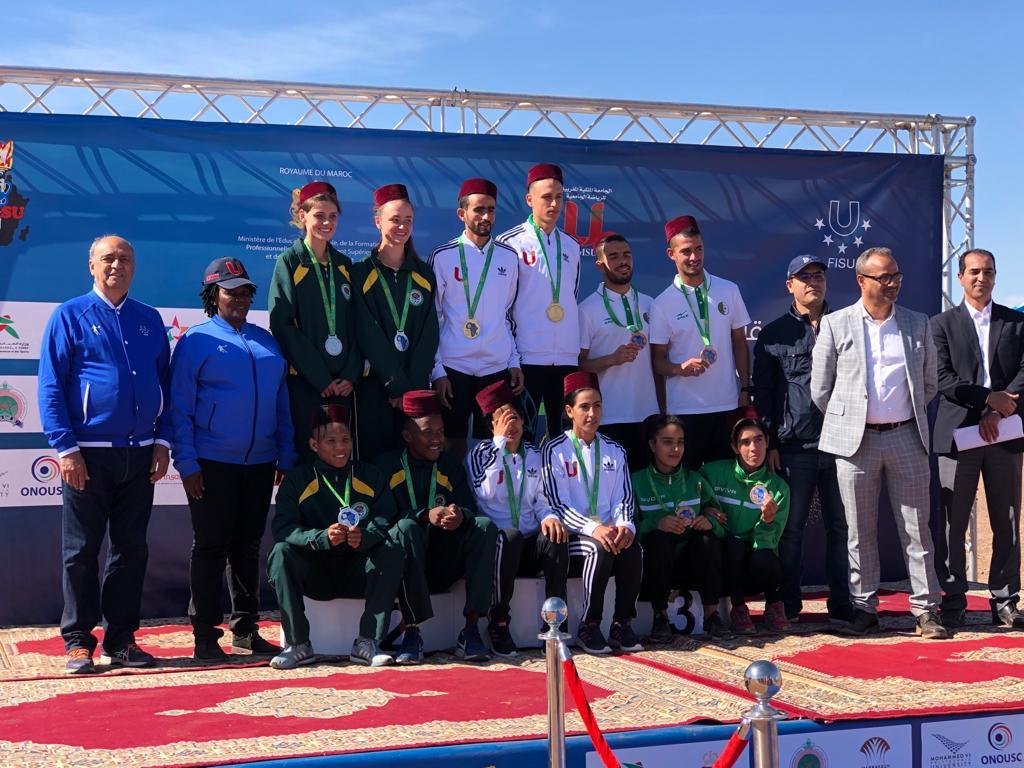 On the podium for the team competition (Courtesy: USSA)What are you studying, and how do you balance your studies with your training?
I am currently studying Marketing Management at the University of Johannesburg. After finishing high school in 2016, I went to study at the University of South Alabama for a year and had a great experience, but I came back home because I felt homesick. It is always a challenge to balance training and studies, but being a student-athlete, I have to commit to both. I set up times for when to study and work my training around my studies, and usually train early in the morning before the sun is up and in the afternoon, when I am done with my studies.
Congratulations on making the South African squad for the FASU Championships! Tell us about the qualifying process, and how you were selected?
In September I participated in the USSA (University Sports South Africa) Cross Country Championships where I ran the 10km event and placed 2nd in a hard-fought race. I was not sure how many would be selected for the FASU Championships, so I just ran my heart out. I had to wait until the middle of October and finally saw that the squad was announced and my name was there. I was so excited because of the opportunity to travel and represent South Africa and my university at the same time.
Nicole van der Merwe with her medal in MoroccoYou then achieved a well-deserved silver medal in Morocco; congratulations! Were you happy with your performance, and how was the overall experience for you?
I was a little nervous and did not know what to expect because I had never run against those competitors and did not know what shape they were in. But I just went out and ran my race. I started conservatively and worked my way to the front. It was a 10km race so I could not expend all my energy over the first four kilometres. At the end of the race I achieved my first international medal and was overwhelmed with pride and joy. It was the best feeling I have ever had, standing on that podium and receiving my medal. Overall, I had a great experience, meeting new people and learning some of their cultures. Everyone was welcoming and always had a smile on their faces.
What was the level of competition like, and what was your biggest takeaway from the event?
The competition was hard because the whole of Africa was competing, and running against Kenyans, who are always quite strong, is always great. From this event I can say that I am capable of more than I can imagine. Pushing your body to the next step is hard, but it is definitely worth it in the end.
The FISU World University Cross Country Championships are also taking place in Morocco, in March. Is that an event you are targeting, and if so, did running in this race help you already prepare for it?
I am definitely targeting the FISU World Cross Country Championships in March. Running the FASU Championships helped me prepare for the FISU Championships because having a feel of the course is always a bonus. The course was hard and challenging with it being sand all the way, with four other obstacles of water, thicker sand, a heel and a log.
Many athletes don't get to combine both their studies and sport at a high level … how important is it to balance the two, in your opinion?
It is very important to balance both my studies and my sport because I never know what could happen tomorrow and if I will still be able to run. I will always have a door open with my studies.
What profession do you intend on pursuing after your running days are over?
I love living in the moment, so I am currently focusing on my running and haven't thought of what to do after. But when I have my degree in Marketing Management I might continue with Honours and then Masters.
Nicole is surely a student-athlete to watch out for at the first FISU World University Cross Country Championship, taking place in Marrakech, Morocco on March 7, 2020.

Related News