It's been a rollercoaster 2019 for South African archer Danelle Wentzel, who continues her rise to prominence on the global stage.
The 24-year-old University of Pretoria student has been spotted with a bow and arrow in hand almost daily for the last decade, having taken up the sport entirely coincidentally after her nephew was bought a toy bow and arrow for his birthday. She was hit by cupid's arrow and just two years after first trying out the sport, entered her first competition.
Barely a year later, she was crowned World Field Champion in her age group at a competition in Germany, with her undoubted talent resulting in medals at various competitions across the world, including Singapore, United States of America, France, Morocco, Thailand and Turkey.
"I enjoy archery for many reasons; one being outside – I love the outdoors – and I see it as my alone time," she explains. "Another big reason is the archery community – they became family and we share the same love for shooting. I've made local and international friends that otherwise I would've never met. It is also a very diverse sport and anyone at any level can enjoy it."
Enjoying archery is one thing but being consistent and excelling is quite another, especially while also balancing a degree in Sports and Recreation Management.
"It boils down to putting your priorities first and sometimes it means giving up some social events," Danelle admits. "As the saying goes, the more you have to do the more you get done. Planning your schedule in advance is key."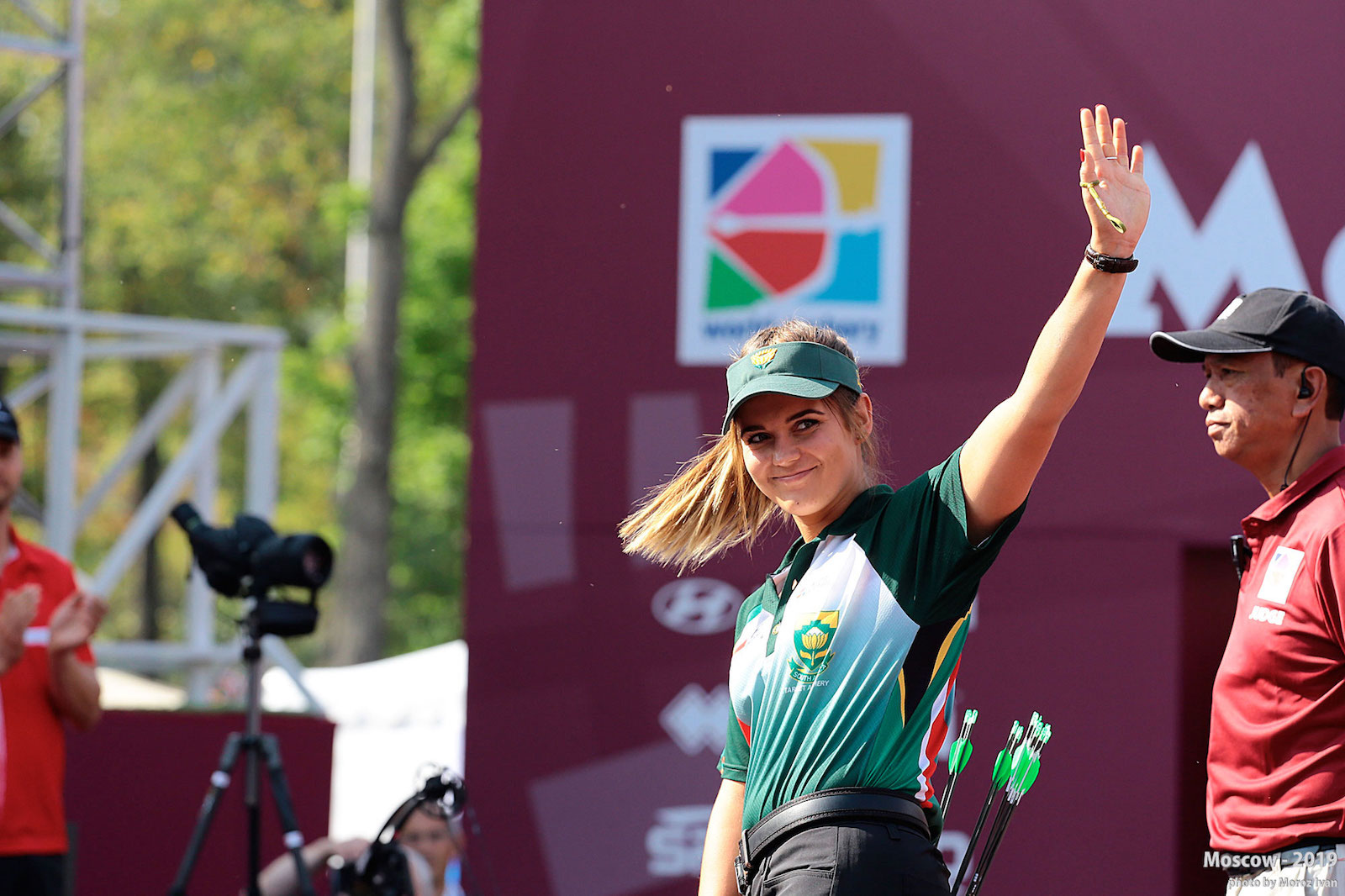 Danelle truly shot herself to prominence in May this year during the third stage of the 2019 Archery World Cup. At the global tournament, the young archer was in top form as she claimed the gold medal at the event, becoming the first South African to win a stage at the Archery World Cup while simultaneously booking her spot in the competition's final in Moscow, Russia later in the year.
The world's 11th-ranked archer thus arrived in Napoli for the Summer Universiade high in confidence and continued where she left off as she shot a new Universiade record of 701 points in the qualifying round of the women's compound event.
Yet despite her impressive showing, the South African bowed out of the tournament in the third round as she failed to progress to the semi-finals, a humbling experience which she was able to transform into a life-lesson.
"I felt very disheartened not making it to the podium," she says, reflecting on her performance in Napoli. "Everyone had high expectations including me. The round before I fell out I shot the highest score on the field and the next one I was out, making it feel like all that hard work was for nothing. But that is archery; you have to accept that on some days someone else can be better than you."
Despite her disappointing result, Danelle says she thoroughly enjoyed herself at the Universiade.
"Participating among fellow students for your country is very rewarding," she says. "It connects you because you know that they're possibly struggling with similar things and are putting in the same kind of time in preparation and training."
"We enjoyed the vibe at our village that started in the dorms and went onto the bus and all the way to the dining area: the energy, anthems and team spirit never seemed to die down. I was pleasantly surprised with how many athletes came together downstairs to play some made-up game outside, really it was a great experience overall."
After enjoying a short break in Italy after the Universiade, Danelle was back in competition at the Archery World Cup in Moscow, but was knocked out of the competition in the quarter-finals.
Once again though, the determined athlete chose to see the experience in a positive light.
"Just making it there was an achievement alone," she says. "Out of my 15 arrows, I'd say 13 were good and the other two cost my match. I've never felt that type of pressure before and you can't prepare someone for it. I knew it would be tough, but after experiencing it I took away a lot more than I lost. Like I said, it's a never-ending learning cycle."
And that learning cycle is well and truly in motion for the 24-year-old go-getter, who is already planning for her forthcoming competitions in the USA as she continues to pursue her dream.
"Next up is the indoor circuit in the States and I could not be more excited," she says. "I would love to be able to do the outdoor circuit in their summer months later in the year as well. I want to become a pro-archer, if that is meant to be for me. Where the journey goes after that, only time will tell."
All images: courtesy Danelle Wentzel

Related News