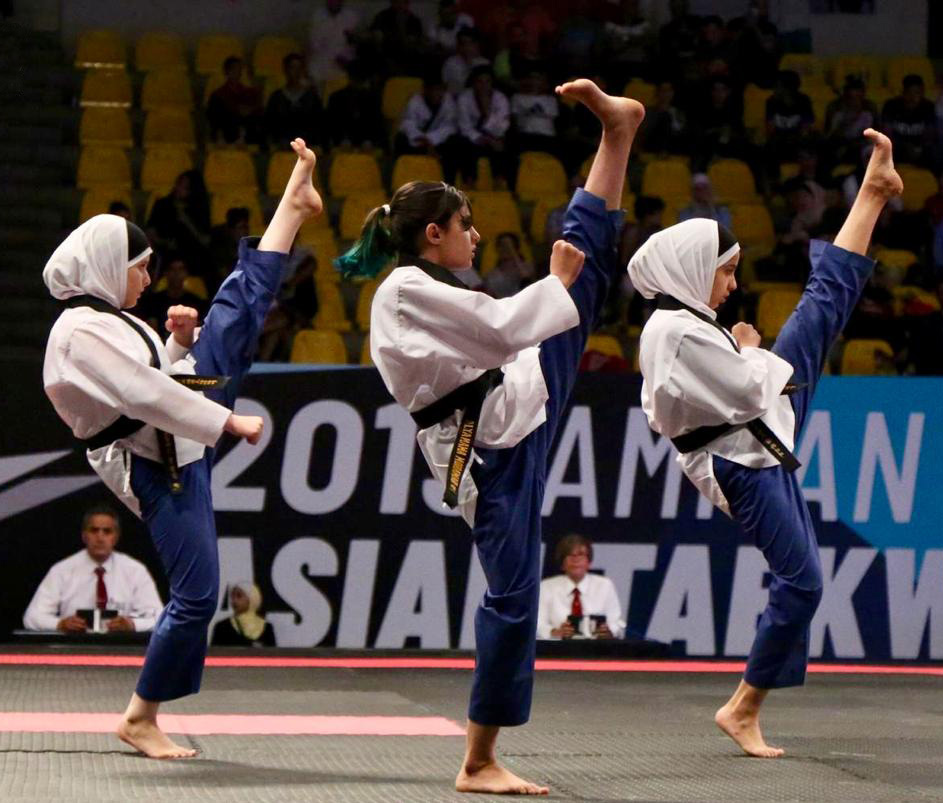 Jordanian and Youth Olympic Games silver medalist Dana Haider Touran turned her sport and education experience into the necessary ingredients for an appointment to the World Taekwondo Development Committee. Dana Touran is currently a member of the 7th Batch of the Dream Together Master's programme on global sports management at the Seoul National University in South Korea.
The FISU U-Media team caught up with Dana on her latest achievements in the world of taekwondo and what this means for her future.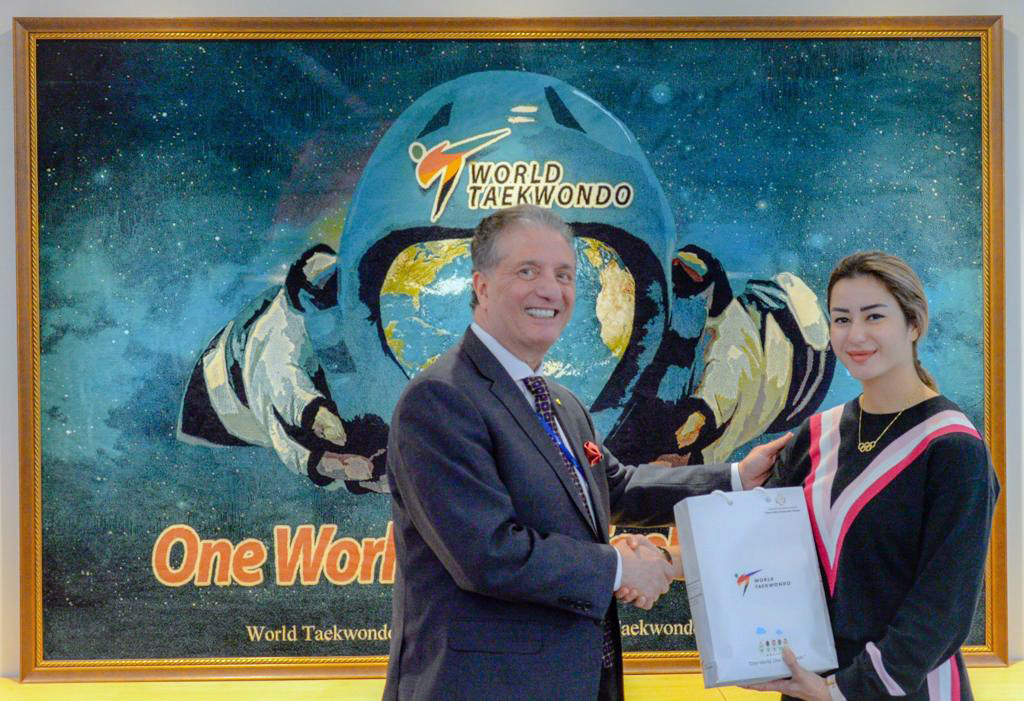 How do you feel being given such an honor by the World Taekwondo just as you begin to transition from athlete to administrator?
It's a big honor and a big mission for me, being an athlete was something I loved very much, but becoming an administrator with the opportunity to develop this sports is something I'm looking forward to. I don't expect it to be easy, but I believe I am able to do so effectively because I believe I have enough passion to follow through.
How important is the developmental level of young athletes, especially in Taekwondo?
It's so important because it is essential to put the young kids on the right track, this means they have less struggle and avoid getting into the wrong company. It is the most important thing to develop the youth.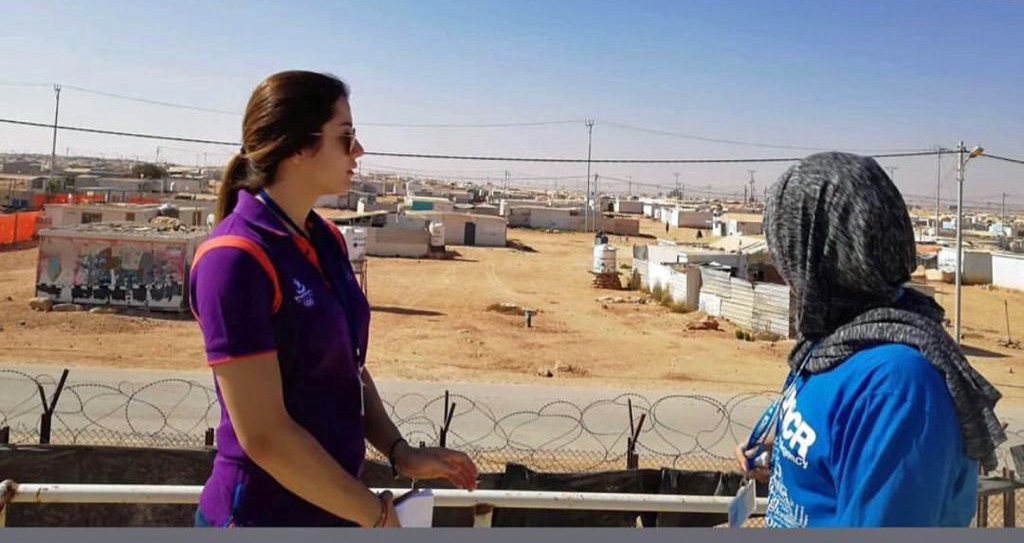 Dana on a visit with the United Nations Refugee Agency, the global organisation dedicated to saving lives and protecting the rights of refugees, forcibly displaced communities and stateless people, and assist in their voluntary repatriation
How do you intend to impact or make a difference in your home country of Jordan with both your World Taekwondo appointment and the masters degree you're working on in sports management?
In Jordan, I already tried to do many projects. I have worked to introduce Refugees at the SOS children's village in 2017 and the Zatarii camp in 2018 and 2019 to taekwondo, this was a passion project for me and I have loved it. The appointment with the World Taekwondo gives me a bigger platform to learn more about the administrative angle of the sports and its environment. This is made much easier really by my current pursuit of a master's Degree in Global sports management at the Seoul National University. This is going to be a great experience, I'm looking forward to giving back and to do my best to develop my sports.
How important is education for professional athletes and how you were able to combine both during your career?
It is a very important path of life, especially in the Middle East. I recommend that all the athletes balance between sports and education, this I believe gives them the opportunity to live a full and fulfilling life. At a certain point you have to retire and it will be a lot difficult if there is nothing to fall back on. Education helps the athletes in time management and creates unique athletes influencing how they think, how they act during games, how they observe the training and how they control and manage their time and body.
Did you ever compete at the Summer Universiade? And what can you say about university sports?
Unfortunately I did not, as I have said combining sports and education is very important and this is very essential. I have been to several world championships, Asian Games and I qualified for the Summer Olympics in London 2012 but injury stopped me from competing.
Any chance you're eyeing a return to competing in taekwondo, especially with the Tokyo 2020 Summer Olympics soon approaching?
I have been competitive since I was 9 years old, though I have not competed professionally since the world championships in 2015 following a lengthy injury. My mind refuses to retire, I can't stop training because I love it and it is part of my life style. I will continue to train but competing again might be more difficult especially after reaching a certain level in the sport. It is more difficult to go back after such a long period of time of absence. I know how much effort it takes to compete at the highest level so for now there is no point competing knowing I am not at my best yet.
You currently pursuing a master's degree in sports management with the Dream Together Masters programme. How important is this to the path you have chosen and how will this help back home in Jordan?
I love management and administration and at the same time I love the field. I have no idea right now what will be the right position to make the most difference in Jordan, so I would like to be a part of both. I know I have the spirit and energy to give back along with the knowledge to lead. I have so much ideas and initiatives I would love to impact that will help the sport. I believe my experience as both a player and one who has worked to make a difference I have the ability to really make a difference.
What would you say to 5-year old Dana Touran?
I would thank her for loving taekwondo, I will thank the 11-year old me for continuing the sport and I will specially thank the 17-year old me for not giving up even when the support was not there and it was difficult to continue.
The Dream Together Masters programme congratulated Dana on its Instagram for her continuing achievements beyond the field of play
"We are delighted to share that our very own newly-recruited 7th Batch Dana Touran from Jordan became appointed as a member of the World Taekwondo Development Committee! We cannot wait to see how much you will grow as a global sports manager! Congratulations!
Want to know more about the Dream Together Masters programme?
The Dream Together Master Programme is a full scholarship graduate programme funded by the Korean Ministry of Culture, Sports and Tourism (MCST) and the Korea Sports Promotion Foundation (KSPO). Part of the legacy from the Gwangju 2015 Summer Universiade, this programme consolidate international sport cooperation via global networking, as well as the provision of an in-depth insight in the area of sport management, serving as a way of preparation for leadership positions in sport fields.
For more details contact the FISU Education Department at education@fisu.net
Related News