AVERSA, 6 July – Saturday signaled the end of the basketball group stage matches at PalaJacazzi in Aversa, about 25km north of Napoli, where the 30thSummer Universiade is taking place. The top two teams in each Pool will compete in the quarter-finals starting Sunday.
The men's United States team won their last group match 99-70 against Team China in Pool C. China also lost their earlier two group matches against Ukraine and Finland, finishing bottom of the Pool. USA on the other hand, won every group match.
Chinese basketball player Baiqing Zhao (right), who is participating in his first Universiade, was not too disappointed, however.
"We just want to show the Chinese basketball style in the Universiade and we tried our best in every game," he told FISU. "We are not afraid of our opponents, and in our opinion, it's a basketball game so anything can happen in the next second."
In the first period, this 'Chinese style' worked well and helped China get 25 points ahead of USA. The situation changed suddenly in the third period though, with USA surging ahead and expanding their advantage to 20 points. After that, China continued to challenge but it was not enough. The score ended at 99-70.
Team United States is represented this time by the team from Clemson University which is ranked No.45 on the NCAA official rankings. John Edward Newman, who scored 11 points in this game, said "In this game if I paid more attention to details, I think I could have done better."
The American team had won gold in Gwangju 2015 and finished runners-up to Lithuania two years ago in Taipei.
In Palajacazzi, Team China got their loyal fans, who from the Accademia Belle Arti di Napoli. "We heard Universiade from the news of Napoli and we want to watch every Team China's Basketball competition. Some of us use their student ID card got the ticket from the Napoli 2019 staffs."
Final Pool Standings:
Women's Pool Standing:
| | | | | |
| --- | --- | --- | --- | --- |
| Rank | Pool A | Pool B | Pool C | Pool D |
| 1 | JPN | POR | USA | AUS |
| 2 | CZE | RUS | TPE | CHN |
| 3 | HUN | ROU | SVK | FIN |
| 4 | UKR | ARG | MEX | CAN |
Men's Pool Standing:
| | | | | |
| --- | --- | --- | --- | --- |
| Rank | Pool A | Pool B | Pool C | Pool D |
| 1 | ISR | ARG | USA | CAN |
| 2 | AUS | LAT | UKR | GER |
| 3 | CZE | CRO | FIN | ITA |
| 4 | MEX | RUS | CHN | NOR |


3 July
NAPOLI – It was a hot and heavy affair at the PalaBarbuto today as Women's Basketball qualifying got underway, with Portugal beating Argentina 64-50 and Russia defeating Romania 59-31 in the preliminary Group B games.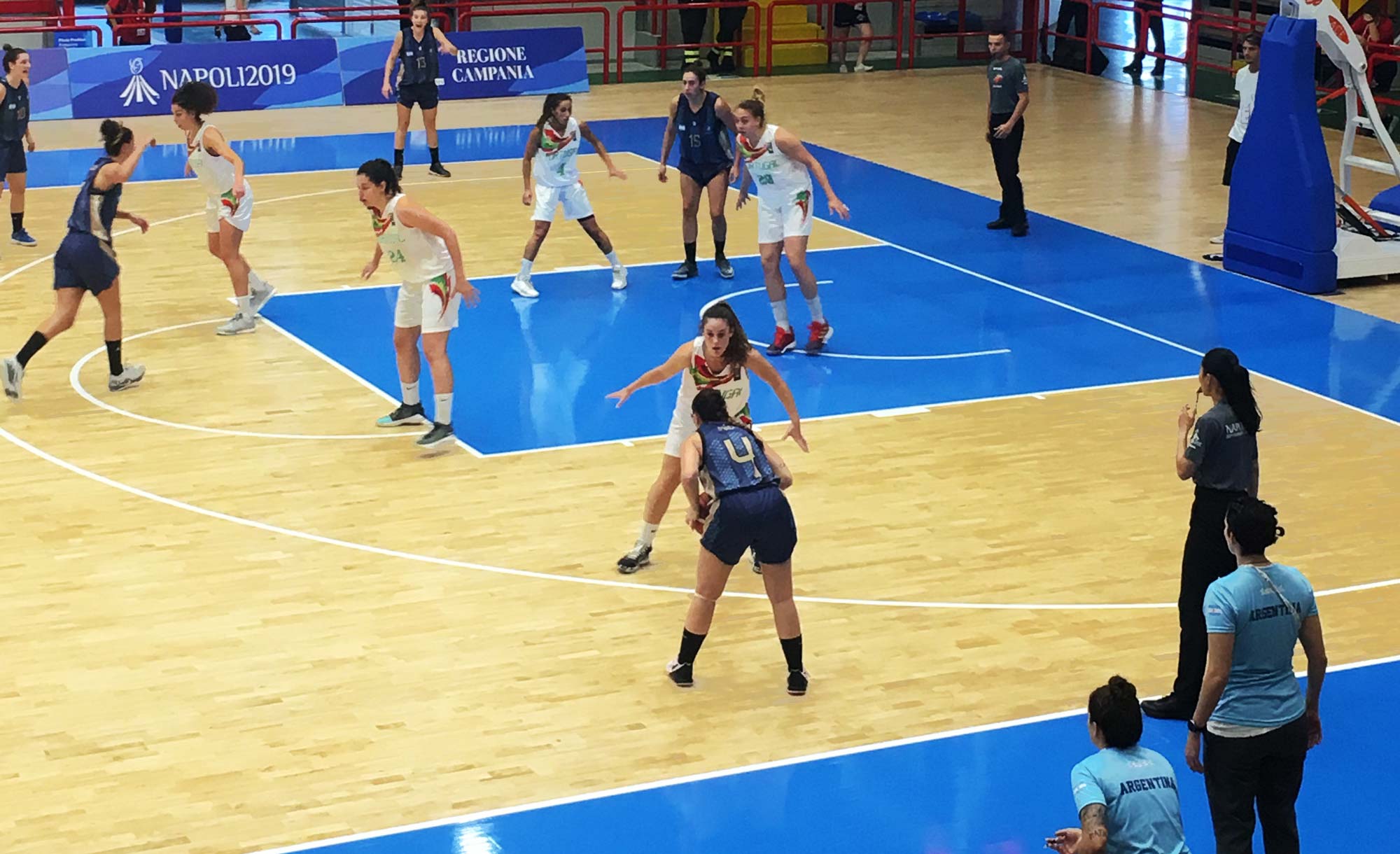 In a noisy arena – where those on the bench and in the stands cheered on their respective sides in unison – the passion and determination of the players and coaches was evident. Each nation truly gave it their all, with the positive spirit that is a hallmark of the Universiade.
Despite the tough defeat for Argentina, Maria Laviero remained positive. "I believe we tried to play the game the way we wanted, we just need to get back into the tournament and try to win our next game."
The number ten also expressed her delight at being able to represent her nation at the Universiade, saying "It's the best feeling ever. It's great that there are these events that combine university and sport."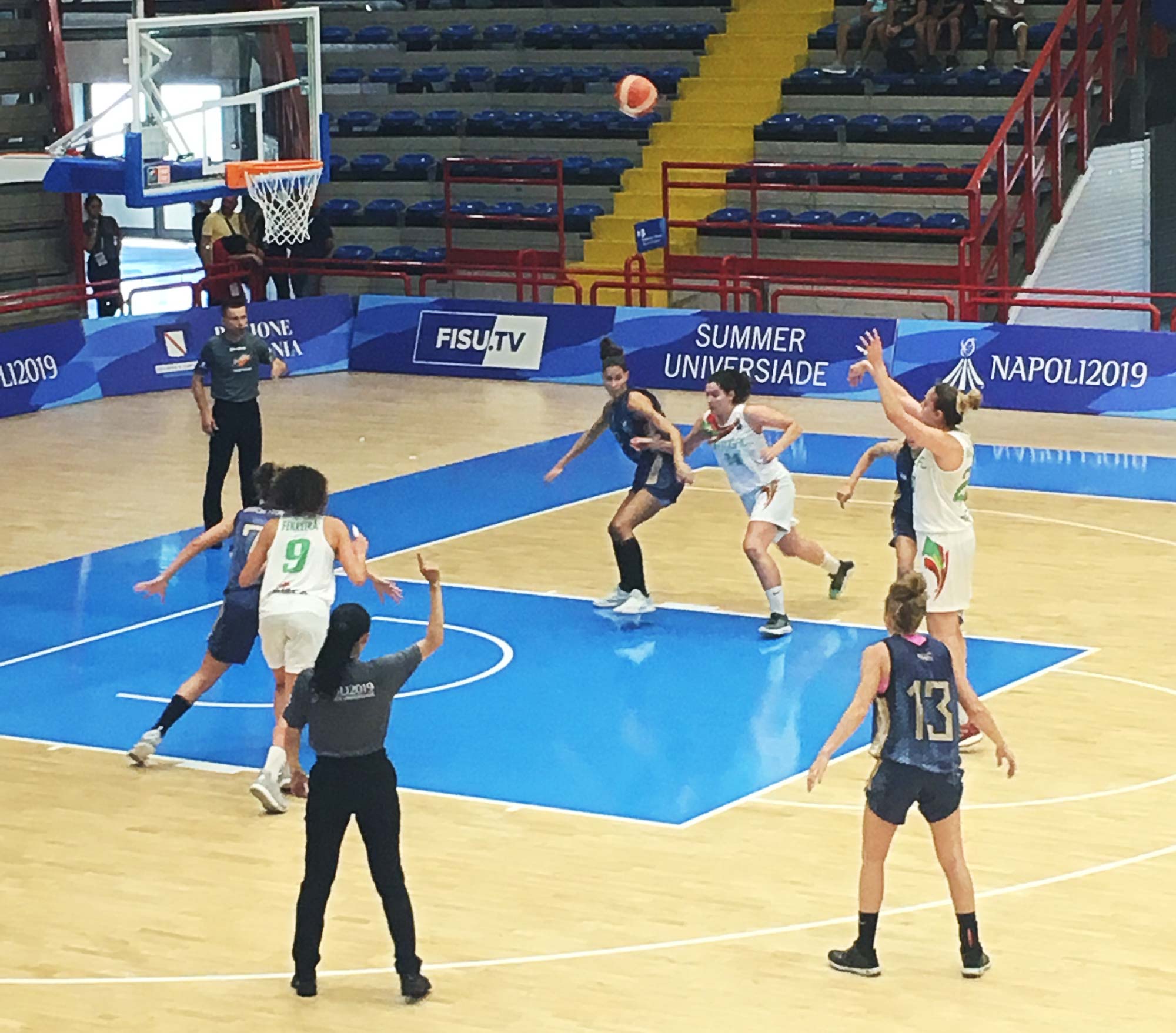 Much is expected from women's basketball here in Napoli, with 16 nations competing in the women's tournament – and the men's – for the first time in years. The sport has been on the Universiade programme ever since its appearance in the first edition in Turin in 1959, but it wasn't until two years later in Sofia that the women's competition entered the games. Now, over 50 years later, the women's event is as popular as the men's, with both competitions all set to generate a real buzz in the days ahead.
Basketball venues for training and competition are spread out over the Campania region, with other matches taking place in PalaDelMauro in Avellino and PalaJacazzi in Aversa. Japan and Czech Republic picked up victories over Ukraine and Hungary respectively, while USA and Taipei also got their Napoli 2019 campaigns off to a positive start by beating Mexico and Slovakia. At PalacCercola in Cercola, China overcame Canada and Australia beat Finland.
Basketball competition continues through to the 11 July, with the women's final taking place on the 10thhere at PalaBarbuto and the men's final game coming a day later, at PalaDelMauro in Avellino.
With the men's 2017 champions Lithuania absent from Napoli, the USA Team will be looking to assert their dominance. Clemson University will compete as the American national team, after Purdue University represented them in Taipei two years ago.The American women from Mississippi State University will also be considered among the favourites, although Australia is seeking successive golds following their first place finish in Taipei.

NAPOLI, 27 June – Basketball at Napoli 2019 will be one of the marquee events, running almost the entire length of the Summer Universiade from 3-11 July. In the magnificent PalaBarbuto and Paladelmauro halls, 16 teams each in the men's and women's competitions will vie for top honours.
The women's field is led by Australia, Japan and Chinese Taipei – the medalists at the last Summer Universiade in Taipei in 2017. The American women's basketball team did not feature on the podium then, but are surely looking to medal in Italy. Mississippi State University will represent the United States, marking their first time ever to represent USA in a Universiade. Their male counterparts are even more confident, looking to claim a gold medal after winning silver in 2017. Lithuania, who had beaten the Americans 85 to 74 in the last final, would be considered strong favourites again. Clemson University will compete as the U.S. national team, after Purdue University represented the Americans in Taipei.
Also in the men's fray are the Chinese team who may not be considered top favourites but are hoping to give the favourites a run for their money. Jian Zhang, the coach of Peking University's basketball team, that recently won the 21stChinese University Basketball Association (CUBA) finals without losing a game, will be leading the Chinese team in Napoli. In the squad is Peking University's MVP Shaojie Wang (left), currently one of the best university basketball players in China.
"This will not be my first visit to Italy, but it will be the first time in Napoli," he says. "I think it will be an interesting experience. We will try our best in every game in Napoli. We all know this is a hard-earned chance for us university players, and we want to do our best."
Wang's teammate Shengwei Wan (right), who plays for the Guangdong Tigers basketball team in the Chinese Basketball Association, is looking forward to showing off some Chinese flair to the world, in Napoli.

"I appreciate the opportunity that the Universiade and FISU provide us with, to show the Chinese style of basketball to the world," he tells us. His team recently won the ninth CBA Championship in May 2019 and he heads to Napoli on a high. But Wan is aware of the level of competition that awaits them.
"I had a chance to be at the Gwangju 2015 Summer Universiade," he says. "Facing Team USA and Team Germany, I felt that the Universiade gave us the highest level basketball competition. From the opponents' tacit communications, great skills and stronger bodies, I learned so much from the Universiade."
"At Napoli 2019, we are in the Group C with Finland, USA and Ukraine. I feel so excited because I will learn more from the top basketball teams again."
Pools: Basketball Women
| | | | |
| --- | --- | --- | --- |
| POOL A | POOL B | POOL C | POOL D |
| UKR | POR | USA | CHN |
| CZE | ROU | TPE | FIN |
| HUN | RUS | SVK | AUS |
| JPN | ARG | MEX | CAN |
Pools: Basketball Men
| | | | |
| --- | --- | --- | --- |
| POOL A | POOL B | POOL C | POOL D |
| CZE | LAT | CHN | GER |
| ISR | CRO | FIN | CAN |
| AUS | RUS | USA | ITA |
| MEX | ARG | UKR | NOR |
Related News