It is an oft-repeated phrase that sport breaks down barriers of all kinds – geographical, political, religious and historical. Every once in a while though, comes along a story that makes you sit up and take notice of the real power of sport. Like when a young Jewish girl gets a chance to visit the land where her ancestors suffered horrors of the second World War, and is able to make peace with that history. Peri Goodman got that chance, thanks to sport.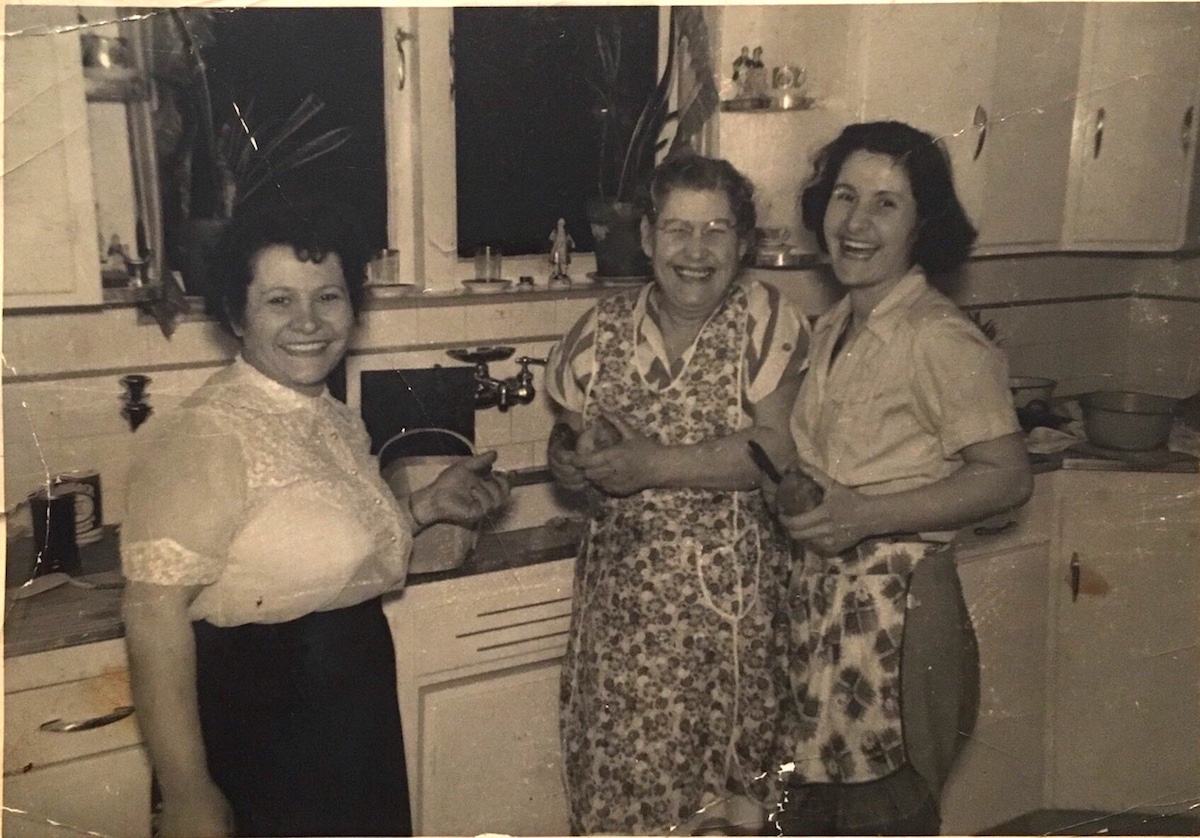 Peri Goodman's great grandmother and family after emigrating from Poland to CanadaA third generation Canadian, college student and competitive cheerleader, Goodman tells FISU about her tryst in Lodz, Poland, a few months ago. The FISU World University Cheerleading Championship took place in late 2018 and those few days were life altering for Peri Goodman. Not only because the Brock University cheerleading team brought home a bronze medal. The reasons run much deeper and go much further back.
Peri's grandmother's family had emigrated from Poland to Canada just before occupation of their country by Nazi Germany. The Jewish family that was left behind were victims and witnesses of the horrors of World War II. Her grandmother had many aunts, uncles and cousins who were victims of the holocaust.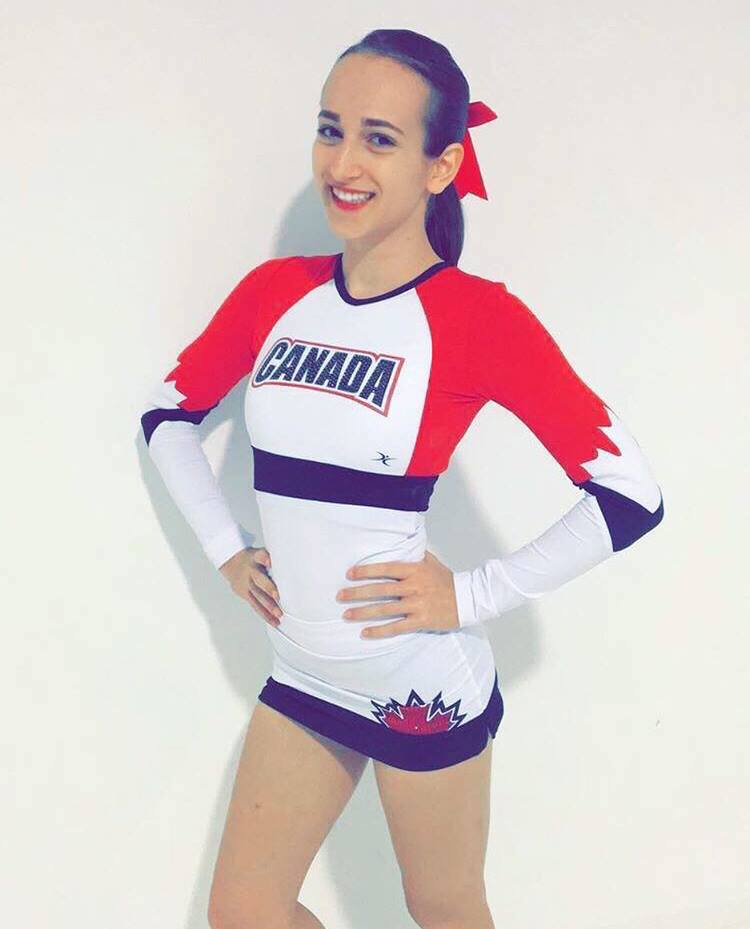 "I never met them," says Goodman regretfully. "My grandmother's family had moved to Canada and they rarely spoke about their experiences during the war. As I grew up, I realized it was a very difficult topic for her. I knew she had cousins who had been in the camps and some who had managed to escape. That's all I was told. I understood that it was a painful part of our history and she didn't like to bring it up often."
"At the same time, my family raised me to be proud of my religion," she continues. "And when my mother found out that I was going to Poland, she said I should be aware of my history, now that I was getting a chance to go."
Growing up in Canada, Goodman says she was not aware of the extent of that part of her family or history. But sport opened up those chapters and with them, feelings she didn't know existed.
"I'm so thankful to the coaches for organising a visit to Auschwitz (concentration camp) the day after competition ended," says Goodman. "It is difficult for me to describe what I felt there. It just put everything into perspective. I felt angry and at the same time, proud. I didn't know it was possible to feel the range of emotions that I felt that day."
"It is such a blessing that we live in these times when I can visit there freely and be proud of who I am."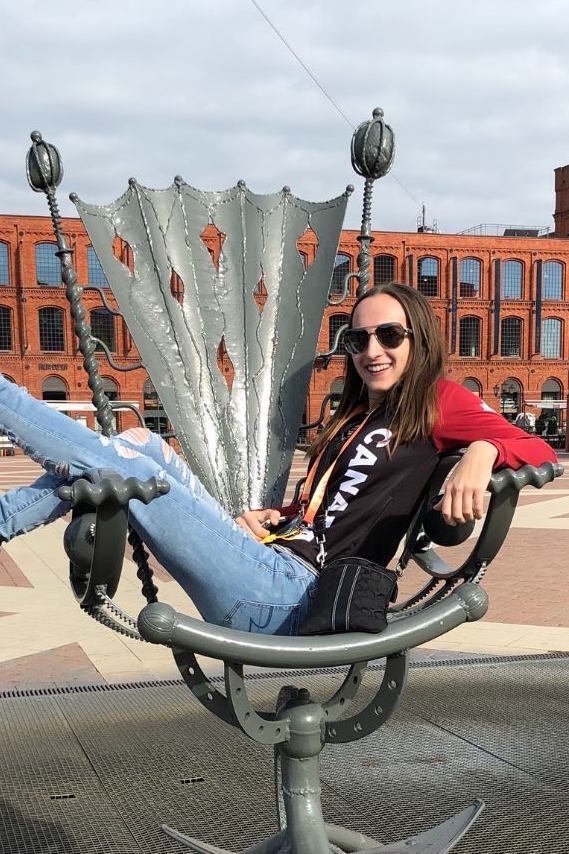 Peri Goodman, enjoying the opportunity to visit LodzIn the days leading up to her travel to Poland, Goodman says her mother advised her to represent her country, but also her family well. She says it was really impressed upon her that she had been given an opportunity she must appreciate.
"Sport has given me so much and I'm so thankful for it," Goodman says. "There is so much I have learned in the last ten years but even more so, since I took to cheerleading. I have had a chance to travel and meet people around the world and experience different ways of life."
Peri Goodman was in fact a gymnast until the end of high school, but as she entered university, she made the switch to cheerleading as there was no Canadian university league for gymnastics. Now she believes it was one of the best decisions she ever made.
"One year of being on the BROCK varsity team and I got the chance to represent my country at the World University Cheerleading Championship in Poland," she gushes. "It was such a wonderful experience. I have the fondest memories of the event. We didn't really know the other teams and we all spoke different languages, but everyone was so polite and kind to each other. Sport sort of bound all of us together."
Goodman says it was difficult to return home and process all that she had felt during the week in Poland.
"I spoke to my mother about it," she said. "Being able to talk to her about visiting the camps helped me really understand what I had seen. It was also a learning experience for her, I think because she saw what I did, through my eyes. It was very emotional and profound."
"She was proud of me," she adds. "Before we competed, before we went out onto the mat to do our routine, I made it a point to exhibit my faith, to wear my religion on my sleeve. I normally don't do that at home. But there and then, that was my way of taking control and owning that moment. It was my way of honouring everything that moment meant to me."