Team Canada and Team Great Britain head into the Curling competition in Krasnoyarsk hoping to repeat the success of Almaty 2017. For Canada, their only gold at the previous Winter Universiade came from the women's Curling team and such are the hopes pinned on Danielle Schmiemann – who was part of that squad – that she has been named Canada's flag bearer for the 2019 Winter Universiade. The University of Alberta athlete will lead Canada into the Opening Ceremony on 2 March.
Photo courtesy: U Sports Canada"I am extremely honoured to have been selected to represent not only curling, but our entire Canadian Delegation at the Opening Ceremony of the 2019 Winter Universiade," says a delighted Schmiemann (above, right), who won the U SPORTS championship with the Alberta Pandas last season. She currently competes on the World Curling Tour with 2017 flag bearer and former University of Alberta teammate Kelsey Rocque.
"Earning the opportunity to wear the maple leaf on your back is always a dream come true and being able to carry the flag for Canada gives me a great amount of pride and excitement for the upcoming Games," she says.
Ross Whyte. Photo courtesy: British Universities & Colleges SportIn the men's competition in Almaty, Great Britain had edged out Sweden to take gold. Unlike Canada though, they don't have a member of that triumphant squad to rely on in Krasnoyarsk. They are confident nonetheless, of putting in a top performance when they step out in the Ivan Yarygin Sports Palace on 3 March.
"Our team has prepared well for this event and we really look forward to challenging ourselves against some high calibre opposition teams," says 19-year old skip Ross Whyte (right) from Stirling University, who also happens to be a silver medallist from the 2016 Youth Olympic Games. "It's always a proud moment getting to represent the nation internationally and we take great pride in performing to our best."
Ross and his teammates Duncan McFadzean and Ryan McCormack are all currently competing in the World Junior Championships in Liverpool, Nova Scotia. 18-year-old McFadzean says, "This will be my first time representing Great Britain and I look forward to testing myself on the international stage. We have a great team heading out to Russia and we believe we are capable of a strong performance"
McCormack agrees. "We look forward to doing our nation proud," he says.
Both Whyte and McFadzean have been competing internationally in Canada recently and Ross has gained experience by being 5th player at this season's European Championships.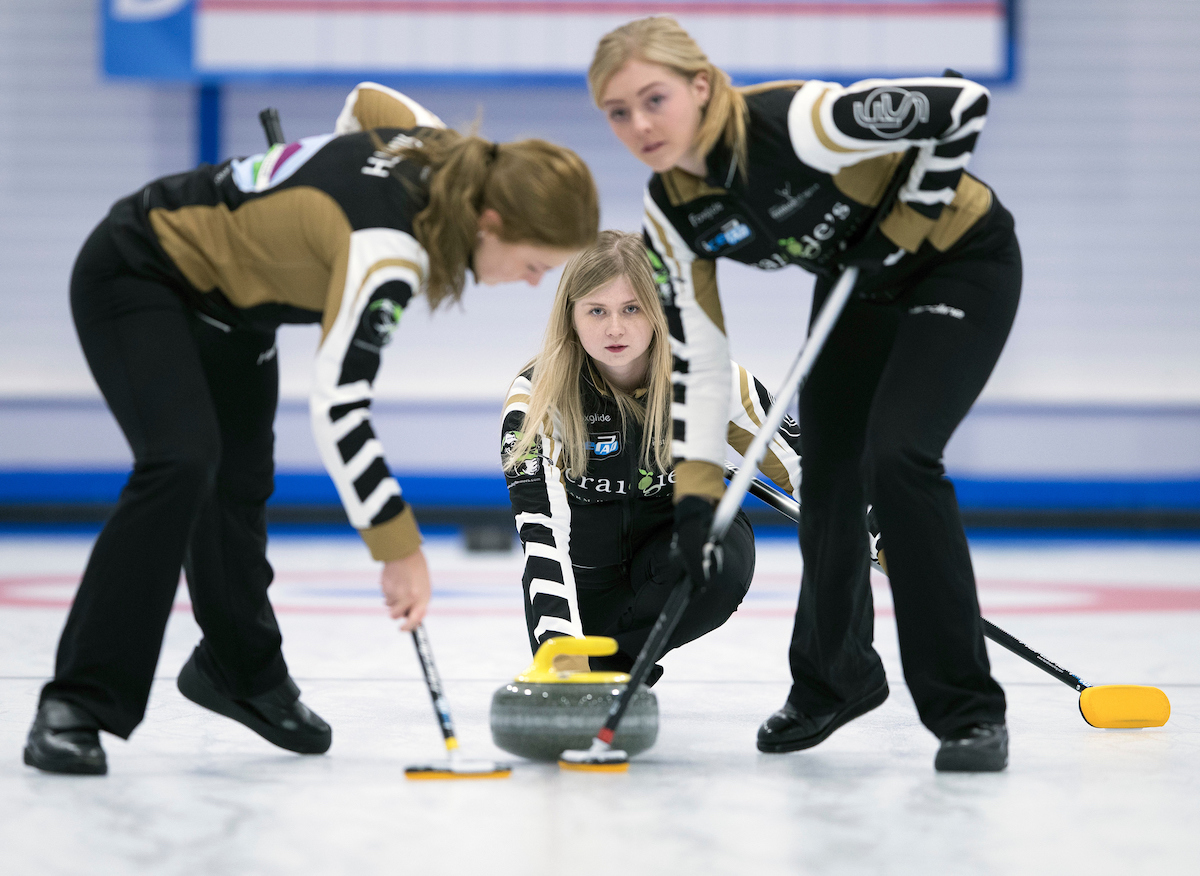 Photo courtesy: British Universities & Colleges SportThe British women's team (left) comprising Sophie Jackson, Naomi Brown, Mili Smith and Sophie Sinclair won silver at the 2017 World Junior Championships and have been part of British Curling's Foundation Programme for the past three years. This, in fact, is the first season out of juniors for the team and they have been gaining experience by playing in Canada, Sweden, Switzerland, China and Japan.
"I am extremely proud and excited to be leading both our men and women's team to the World Universiade, in Krasnoyarsk," says Team Leader Cate Brewster. "We are looking forward to great competition in a new facility and the teams are very enthusiastic and eager to get out and get started."
Jackson echoes the same excitement. "It will be my first time representing Team GB. I'm sure it will be extra special and a great opportunity. It will be great to be involved in a multi-sports event, also a first. We can't wait to get underway and see what we can do. "
Brown agrees and says, "We can't wait to get on the ice at this prestigious event."
We can't wait either. Not too long to go now, as the competition begins on 3 March and the medal rounds take place on 10 March (full competition schedule here). The iconic Ivan Yarygin Sports Palace that was originally built in 1981 has been completely reconstructed for the Universiade. See for yourself how the original retro style has still been retained.
Related News