Winter Universiade athletes have gotten off to a strong multi medal winning start at the PyeongChang 2018 Winter Olympic Games
The PyeongChang 2018 Olympic Winter Games are still in their first week but a number of events have already reached their conclusion. Audiences around the world have witnessed incredible performances, Olympic records broken and medals won.
Athletes prepare meticulously for the biggest stage of their careers and many have found success at recent Universiades before going on to realise their Olympic dreams. Once again, this has been the case in PyeongChang, where six former Universiade competitors have secured their place on the podium during the first week of competition.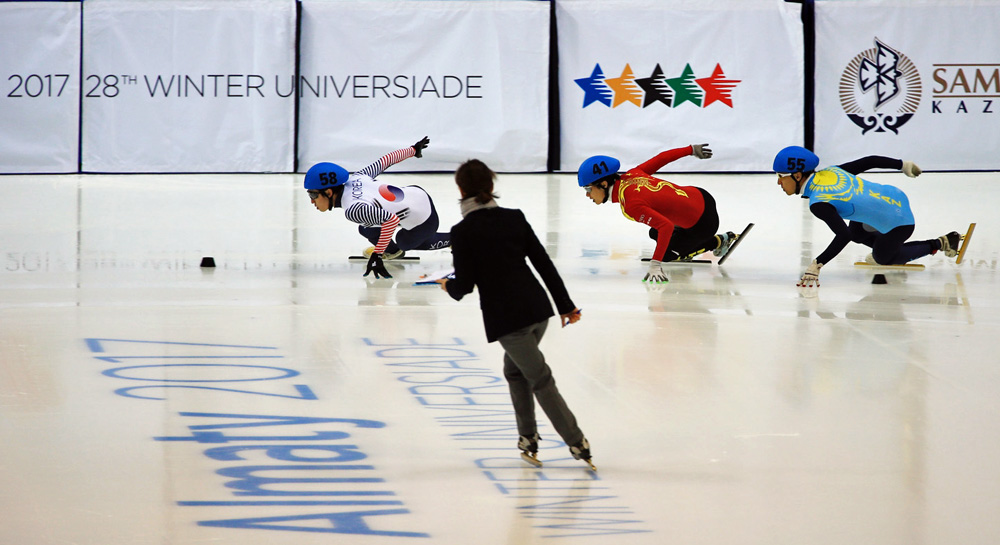 Almaty 2017 Winter Universiade short track speed skater Lim Hyo-Jun turned from a fourth place finish in Kazahstan to Olympic gold in PyeongChang
Lim Hyo-Jun, who competed in the men's 500m speed skating at the Almaty 2017 Winter Universiade, won South Korea's first gold medal of the Games in the men's 1500m short track speed skating. The 21-year-old is making his Olympic debut and broke a Games record on his way to the final, sending the partisan crowd into raptures by claiming the win for the host nation.
Also in the short track speed skating, Miho Takagi from Japan secured silver in the women's 1500m competition, missing out on gold by 0.20 of a second. Takagi, who has won all four of her World Cup races this season, was Trentino 2013 Winter Universiade champion, when she claimed victory in the 1000m.
Liu Jiayu went from Winter Universiade gold in the Snowboard Halfpipe at Harbin 2009 to standing on the Olympic podium in PyeongChang.
Liu Jiayu made history in the women's Snowboard Halfpipe, winning silver to become China's first-ever snowboarding medallist. Jiayu was Winter Universiade champion at Harbin 2009 and has since represented China at three Olympic Winter Games.
There have also been three bronze medals won by former Universiade athletes. Three-time Universiade champion Yuliya Galysheva (women's moguls), Anais Bescond (women's biathlon) and Sara Takanashi (women's ski jumping) all finished third in their respective events.
Three-time Winter Universiade Gold medalist Yuliya Galysheva added an Olympic medal to her collection during the first week of the PyeongChang Games
At FISU, we are passionate about creating opportunities for student-athletes to compete and succeed. Second only in size to the Olympic Games, each Summer and Winter Universiade is a biannual, multi-sport competition that also features cultural activities and educational programmes aimed at helping today's student-athletes become tomorrow's leaders. The Universiade has consistently provided the perfect platform for aspiring student-athletes to compete on the world stage, preparing them not only for elite sporting competition, but lifelong skills that will equip them for their future careers.
The next FISU Winter Universiade will be held in Krasnoyarsk, Russia in March 2019, with the southern Italian city of Napoli set to host the Universiade's next summer edition in July 2019.
Related News