ALMATY – Canada women and Great Britain men have won gold medals in the curling event at the Winter Universiade Games, being held in the Almaty Arena, in Almaty, Kazakhstan.
Canada – skipped by two-time World Junior champion Kelsey Rocque and made up of third Danielle Schmiemann, second Taylor McDonald and lead Taylore Theroux – beat the current European champion team, from Russia – of skip Victoria Moiseeva, third Uliana Vasileva, second Galina Arsenkina, lead Julia Portunova and alternate Maria Duyunova – 8-3 in the final on Tuesday (7 February) morning.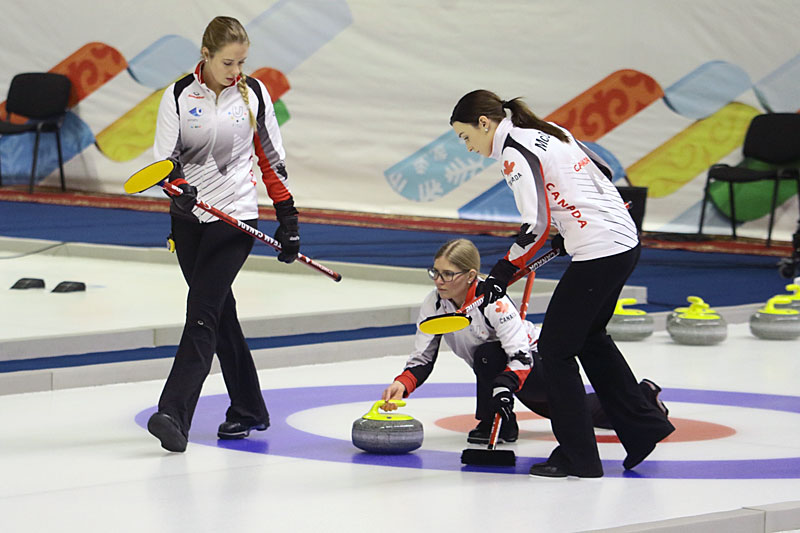 In the afternoon, Great Britain's men's team – lead by current World Junior champion skip Bruce Mouat and his team of third Bobby Lammie, second Gregor Cannon, lead Derrick Sloan and alternate Alasdair Schreiber – overcame Sweden – made up of skip Gustav Eskilsson, fourth Patrik Mabergs, second Frederik Nyman and lead Johannes Patz – in a closely fought final. The score was 8-6.
Canada women won their semi-final game against Sweden – who went on to win bronze medals – 7-4 on Monday (6 February), while Russia beat Switzerland 8-7, in an extra end, in their semi-final.
In the gold medal game, Rocque opened Canada's account with a score of two points in the second end, followed by a steal of two points in the third end. Subsequently, Canada scored two single point ends and had another steal of two points in the ninth end, with Russia only managing scores of one point in the fourth end and two points in the seventh end.
Sweden women – skipped by Isabella Wranaa – beat Switzerland, 6-3, in Monday's bronze medal game.
In Monday's semi-finals, Great Britain's men beat the Norway team skipped by Steffen Walstad – who went on to win bronze medals – 9-8, while Sweden defeated Czech Republic 8-6.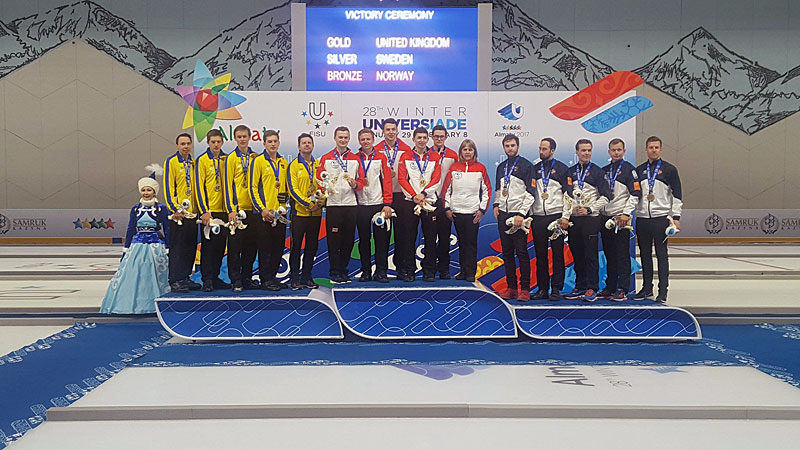 After Great Britain took a 4-0 lead after two ends in the gold medal game, Sweden were able to mount a strong comeback, and with scores of two points in the third, seventh and eight ends moved ahead, 6-5. However, in the ninth end Great Britain moved a point in front with another score for two, before stealing one point in the tenth end to secure the victory.
Norway men beat Czech Republic, 7-3, in the bronze medal game on Monday.
They said it
Kelsey Rocque; skip, Canada (after 8-3 gold medal game win over Russia): "I came into this week knowing it was going to be tough. But, to play well all week and that consistently is really great for us. It's a special feeling. [The Universiade], it has been amazing! I have never been to the Olympics, but I am sure this is a great experience to hopefully one day go to the Games. We have been treated like gold here and it's amazing to wear the Canadian colours and represent our country."
Victoria Moiseeva; skip, Russia (after winning silver): "We were thinking only about gold. It was a really tough game and we did our best to get the silver medal. I am really proud of my girls. Being a skip of Team Russia is a great honour."
Isabella Wranaa; skip, Sweden (after 6-3 bronze medal game win over Switzerland): "It feels great [to win bronze], because we've been fourth in a couple of championships before, so, finally a medal and the trend is broken. It has been a great event, with fantastic ice. The village has been fantastic as well and it has been fun being with other students and enjoying other sports."
Bruce Mouat; skip, Great Britain (after 8-6 gold medal game win over Sweden): "It feels good [to win gold]. It wasn't our best [game], we were four-up after two ends, but we never felt comfortable – they were playing awesome and we were missing easy shots. The Universiade, has been unbelievable, the experience that I'll take back home is amazing – being in the village with other athletes and having likeminded people around you who take their university and sporting careers seriously."
Gustav Eskilsson; skip, Sweden (after winning silver): "Gold would have tasted better, but we've had a good week and we are happy. We have really enjoyed the Universiade, it is the second time for this team. It's been a great event."
Steffen Walstad; skip, Norway (after 7-3 bronze medal game win over Czech Republic): "We have had an up and down week and we didn't perform at the level we wanted to, so I'm happy to go home with a medal. The Universiade has been really good, it is such a valuable experience to be at an event similar to the Olympics."
C. MacAllister, WCF Communications & Media Relations Manager
Related News