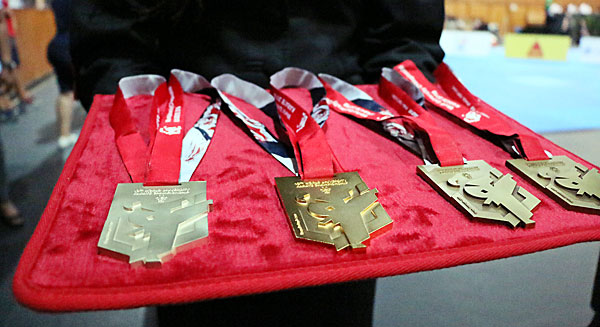 BRAGA– Friday 12/8 was time to decide the first medalists of the competition. Congratulations!
FEMALE: Kawamura Natsumi (Japan) gained the gold in Kumite +68kg, while Meltem Hocaoglu (Turkey) got the silver. Amelia Harvey (UK) and Sohila Ahmed (Egypt) stayed with the bronze. On Kumite -68kg, the victory went to Alizee Agier. The austrian Alisa Burchinger finished 2nd; Titta Keinanen (Finland) and Maya Suzuki (Japan) placed 3rd. In female Kumite -61kg, Ayami Moriguchi (Japan) and Xiaoyan Yin (China) achieved the bronze; the silver went to Natasha Stefanovska (Macedonia). The highest podium place went to Giana Lotfy (Egypt).
On Kumite -55kg, Emily Thouy (France) got the gold, followed by the silver of Simona Zaborska (Macedonia). Tzu-yun Wen (Chinese Taipei) and Aya Ibrahim (Egypt) managed the bronze. Estepa Rocio Sánches took the gold to Spain in -50kg; Mihi Miyahara (Japan) took the silver medal, as the bronze medalists were Tsui-ping (Chinese Taipei) and Bettina Plank (Austria).
In Kata, both Alexandra Feracci (France) and Randa Abdelaziz (Egypt) took the bronze medal home. Misaki Tanaka won the gold, after beating Sakura Kokumai.
MALE: Ljubisca Mihailovic (Montenegro) took the gold on Kumite +84kg: the silver went to Arsen Megrabian (Russia), and bronze was shared by Hocine Daikhi (Algerie) and Ahmed Elasfar (Egypt).
In -84kg, Mohamed Elkotby (Egypt) was the champion: Chun-wi Wu (Chinese Taipei) placed 2nd; Jessie da Costa (France) and Jamaal Otto (United Kingdom) finished 3rd.
The Kumite -75kg category brought an egyptian champion, Ali Elsawi. He won against Ken Nishimura (Japan), as Wei-Chieh Hsu (Chinese Taipei) and Dastonbek Otabolaev (Uzbekistan) were the bronze medalists.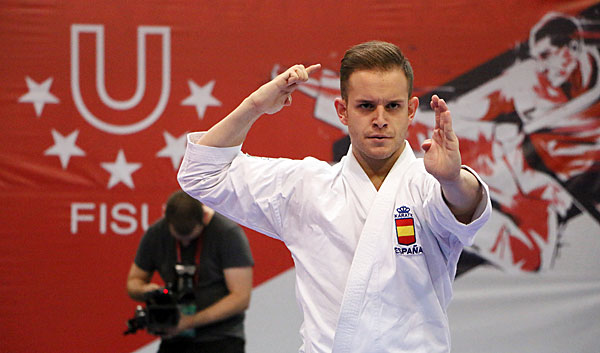 Steven da Costa (France) won in Kumite -67kg, as silver went to Pokorny (Austria); bronze to Barney Gill (New Zealand) and Magdy Abdelazez (Egypt).
The male Kumites' -60kg has given the spanish Gomes Garcia the gold medal. Aly Ismail carried the silver, as Maximiliano Larrosa (Uuguay) and Sadriddin Saymatov (Uzbekistan) ended third.
In male Kata, Peter Fabian (Slovakia) and William Geoffray (France) were both third, getting the bronze. Mohammed El Hanni (Morocco) went further and got the silver one. The last world champion crowned was Hiroki Kubo (Japan).
The last day will decide the champions on Team Kata and Team Kumite. Enjoy the last day in Braga!
(Source : OC Karate)
Check out the draw
Download the Newsletter
Watch the Livestreaming
Visit the OC website
Visit the Facebook page
Related News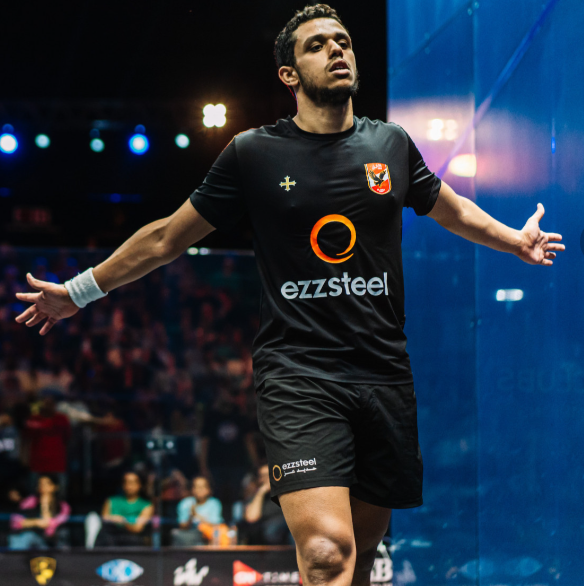 14 November 2022