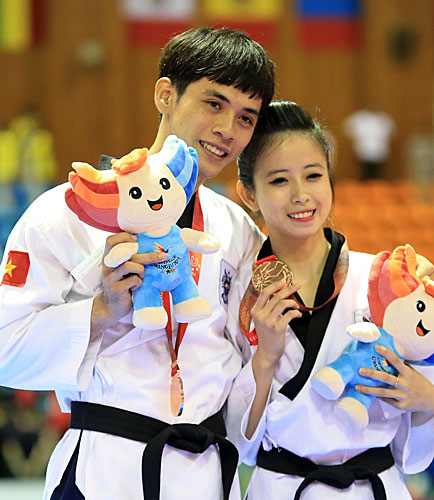 Vietnamese taekwondoin and Financial Aid Programme participants Tuyet Van Chau and Thien Phung Nguyen won a bronze medal in the Mixed Pair Poomsae at Gwangju SU
GWANGJU – The Financial Aid Programme of the International University Sports Federation (FISU) has been as successful as never before at the Gwangju Summer Universiade 2015. Out of 53 countries who received funding by the FISU and Gwangju Universiade Organizing Committee (GUOC), athletes from eleven nations won medals to date.
Financial Aid started in 1991 at the 16th Summer Universiade in Sheffield. FISU Executive Assistant Nicole Mangelschots explains the programme that is in place for the Summer Universiade only: "The reason why we have it is that some countries need our support. They have good athletes who would not be able to attend the Universiade without help. For FISU and GUOC it's great because we want to have good participants. Thereby we want to increase the number of participating countries and also give some smaller nations the chance to come to the FISU games".
Since 2013 Financial Aid is part of the Development Programme of FISU supervised by Stefan Bergh, FISU Vice-President and Chair of Development Committee. Each National University Sports Federation can request help for three delegation members – one female athlete, one male athlete and one official. "We help them with flight tickets and participation fees. Also if a referee from the same country and same sport is coming to the Universiade we consider carrying the cost of fees," says Mangelschots.
In order to apply there are criteria to be met. Applicants must not exceed the pre-defined per capita income. Their NUSF must have participated in the FISU sports and educational events in the last four years and also have organized national events. They should support activity in administrative requests from FISU like surveys, pay their annual membership fee, and have the level of their athletes checked by FISU.
"We want the applying nations to be active with FISU all the time, that's why we decided to raise the standards," Mangelschots added. During the recent years the programme has become more performance-related: "We want medals and very good performances. I'm very happy because many of our applicants won medals and had great performances."
So far supported athletes from Armenia, Barbados, Botswana, Burkina Faso, Ivory Coast, Jamaica, Mongolia, Uganda, Ukraine, Uzbekistan and Vietnam won precious metal. Of all the countries supported Ukraine was the most successful with 26 medals until the day. Oleg Verniaiev won six of them in Artistic Gymnastics.
Vietnamese Taekwondoin Thien Phung Nguyen won two bronze medals, one of them together with his compatriot Tuyet Van Chau. Dmitriy Shokin won gold in the Men's +87kg of the same sport. Hurdler Danielle Gracia Williams (Jamaica) won a gold medal in the 100m Hurdles as did Barbados' Greggmar Swift in the men's event. Hua Wilfried Serge Koffi from Ivory Coast became Universiade champion in the 200m.
Max Länge (GER), FISU Young Reporter