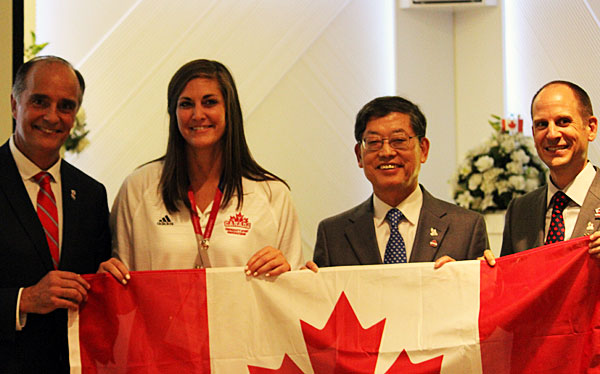 Canada's flag bearer with the HoD, Co-President of GUOC and the Canadese Ambassador
GWANGJU – Wednesday evening, 1 July, an official reception was hosted at Hotel Prado by Canada's ambassador to Korea, his Excellency Eric Walsh, who welcomed the 333 members of the Canadian delegation and announced Alicia Perrin as the country's flag bearer for the opening ceremony of the 28th Summer Universiade on 3 July.
Perrin 23 is a student from the Trinity Western University's Spartans in British Colombia. She has been playing on the University's volleyball team for the last 5 years. She represented the maple leaf in both the 26th and 27th Summer Universiade. Her team also won the National Championship in March 2015. According to the statistics, Perrin is the 2nd best middle player in Canada.
Expressing her gratitude towards the nomination and selection committee, she said "I am honored and excited and for me it's out of the blue because I did not know I was nominated until yesterday." She further said she wishes luck to all the participants coming to play for the Universiade.
Dania Abdullah (PAK), FISU Young Reporter