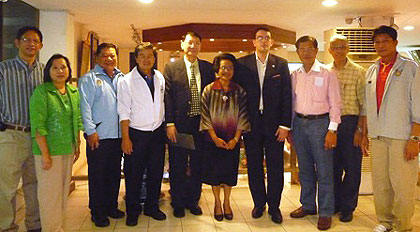 The visit of a FISU representative in Thailand was the opportunity to meet all actors involved with University Sport starting with the members of the Federation member to FISU, the University Sport Board of Thailand.
On January 22nd, Kolë Gjeloshaj FISU Director for Educational Services and Development, Chief of Staff to the President had to opportunity to assist to the end of the meeting of the Board of USBT in Thammasat University. He had the opportunity to introduce to new policy towards the membership being developed by FISU and the importance on developing common projects after having organized such successful 24th Universiade in 2007.
An exchange of gifts was organised with the President of USBT, Mr. Kim Chaiseansook and the Vice-President Mr. Preecha Prayoontat. The Vice-President is also a board member of the Asian University Sports Federation (ASUF), a FISU Associate Member.
On the 24th, an official dinner was organised with the key actors (cf. list below) involved in University Sport in Thailand. Among them, Mr.Sumate Yamnoon, Secretary-General of the Higher Education Commission and the two FISU Family members representing Thailand, Mr. Teerawat Kulthanan, member of the FISU Medical Committee, and Mrs. Supitr Samahito.
The USBT has 126 higher education institutes as members. The President is elected for a four year period, the next election are programmed in March 2011. The President nominates the Vice-Presidents. The Secretariat of the USBT is included in the sub-committee for higher education of the Ministry of Education. The main event is the National Games. To bid for the National Games you must present a project with at least 15 sports at the official programme. As in FISU, the board of USBT nominates a chair a sub-committee per each sport.
1. Mr.Sumate Yamnoon, Ph.D, Secretary-General of the Higher Education Commission
2. Asst.Prof.San Worainthara Ed.D, Deputy Secretary-General of the Higher Education Commission
3.Prof. Theera Sutabutra Adviser of the University Sports Board of Thailand
4. Prof. Clinic.Varin Tansupasiri, Deputy Secretary-General of National Olympic Committee
5. Prof Clinic Teerawat Kulthanan, Dean of faculty of Medicine Siriraj Hospital CM/FISU
6. Mr.Preecha Prayoonpat, Vice chairman of The University Sports Board of Thailand, AUSF Board Member
7. Prof.Dr.Arth Nana, Chairman of Academic subcommittee of the University Sports Board of Thailand
8. Mrs.Nangnoi Puapattanakul, Government Inspector of Ministry of Education
9. Prof.Supitr Samahito,Member of CESU/FISU
10. Mr.Kajorn Jitsukhummongkol, Director, Bureau of General Administration of the office of the Higher Education Commission