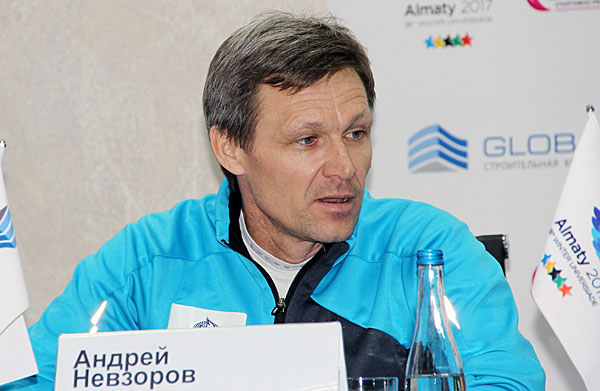 ALMATY – Andrey Nevzorov, the General Secretary of the National Cross-Country Skiing Federation of the Republic of Kazakhstan is confident the WU will give an impulse to the development of skiing in Almaty.
"It is important now to further popularize skiing. It's no secret, that in the 1990s they forgot about winter sports in our country paying more attention to summer sports. I do not know what e caused this, but that tendency did exist. As we have good traditions there were resounding victories and great sportsmen. While people in northern Kazakhstan are somehow acquainted with skiing those in Almaty pay less attention to it. Owing to such image hosting projects such as the Winter Universiade, the involvement of sponsors and philanthropists attention has been turned to skiing again and it is now being supported. I believe that in the future Almaty has all the opportunities to get the popularity of skiing growing. As long as there are sports facilities, there is snow and there are skiing slopes and tracks here. What is left to do is to enhance accessibility, for instance the facility in the Soldatskoye ravine. If it gets functioning at its 100% capacity, renting skis and providing services, people will go there to ski."
Late December, the Alatau skiing and biathlon complex hosted the Kazakhstan's Cross-Country Skiing Cup. The event was used to finalize the Kazakh team for the Universiade. The women's team includes Anna Shevchenko, Irina Bykova, Anna Stoyan, Olga Mandrika, Angelika Tarasova, Valentina Ebel and Angelina Shuryga, with Daria Ryazhko, Natalia Sokolovskaya and Valeriya Tyuleneva being on the backup list. The men's team of Kazakhstan will be represented by Aleksander Malyshev, Sergey Malyshev, Olzhas Klimin, Vitaliy Pukhkalo, Ivan Luft, Konstantin Bortsov and Rinat Mukhin while Aset Dyusenov, Nail Bashmakov and Evgeniy Bondarenko will be on the backup list.
"As for the women's team, we had a time lapse due to that a number of experienced sportswomen wrapping up their carrier simultaneously. Now we have a young generation that has already been showing worthy performance at the stages of the World Cup. Among them, first of all are Anna Shevchenko, Anna Stoyan, Irina Bykova, they are the backbone of the team. The girls are already trying to get their Olympic licences and the Universiade in Almaty will be one of the stages for winning their licenses. Hosting the Winter Universiade on home soil, we will be achieving strong performances", Andrey Nevzorov noted.
It is worth reminding that Kazakh skiers won five medals, including two golden and three silver, in the previous Winter Universiade in 2015. Two golden medals and one silver medal were acquired by Anastasiya Slonova in individual cross-country skiing events.
(Source: Yuliana Alexeenko)
Related News